Californians Set the Trend for Investing in Real Estate for Retirement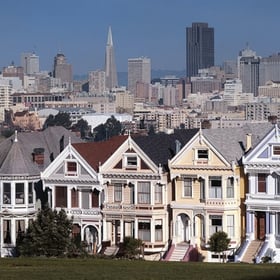 Estimated reading time: 4 minutes
For better or worse, Californians are trendsetters, from the first McDonald's to skateboarding. They pioneered denim jeans and smoking bans. Not to mention almost everything that originates in Silicon Valley, from the first PC to the latest wearable digital device.
One of the better trends Californians lead is investing in real estate for retirement savings. In 2014, 49 percent of The Entrust Group's California clients used their self-directed IRAs to invest in real estate.
What Kind of Real Estate Californians Invest In For Retirement
You can buy many types of real estate in a self-directed IRA. Here's what attracted the attention of our California real estate clients in 2014:
40 percent invested in multi-family residences.
40 percent bought single-family residences.
11 percent purchased vacant land.
Nearly two-thirds (60%) of their purchases were made in California. This is consistent with 2014 statistics from the National Association of Realtors showing that the typical real estate investor buys a single-family house at a median distance of 24 miles from his or her primary residence.
However, Californians also look outside The Golden State for real estate investments for their retirement plans. Arizona and Texas each attracted eight percent of the purchases made by California Entrust real estate clients. Of these purchases made in Texas, California Entrust real estate clients represent 46 percent of the total purchases made in Texas.
How Much People Spent on Real Estate
Location drives every real estate market, and prices can be volatile. Nonetheless, The Entrust Group compiled the average cost of real estate investments made in California in 2014:
Overall average: $195,000
Vacant land: $290,000
Commercial property: $242,000
Single-family residence: $205,000
Multi-family residence: $162,000
Real Estate Investment Strategies
According to the California Association of Realtors 2013 Housing Market Survey, 15 percent of all single-family residence purchases were made for investment purposes. Of the people who made those purchases:
30 percent bought to flip and resell the property.
70 percent bought to rent the property.
This is consistent with statistics compiled by the NAR's 2015 Investment and Vacation Home Buyers Survey, which found:
37 percent purchased the investment for the rental income.
17 percent wanted to take advantage of low prices and found a good deal.
15 percent anticipate the potential price appreciation for sale of the property in the future.
A steady stream of rental revenue and the opportunity for asset appreciation are particularly relevant reasons to own real estate in a self-directed IRA. Most real estate investors hold a property for a median five years, and more than two-thirds of them told the National Association of Realtors they were likely to buy another property in the coming two years.
What You Can and Can't Do with a Real Estate IRA
You can own real estate in a Traditional IRA, giving you tax savings in the year of contribution via a potential tax deduction, or a Roth IRA, giving you tax-free distribution of investment earnings later on. In both cases, the assets in your IRA grow tax-deferred over time while under the umbrella of the retirement plan.
Contributions to fund your account may also come from transfers from other IRAs of the same type or rollovers from employer sponsored plans such as a 401(k), 403(b) or governmental 457(b) plan. This allows you to pool your assets together if a larger sum of cash is needed to purchase the investment. Once the IRA is funded you can direct your IRA provider to purchase the investment on behalf of the IRA.
Your self-directed IRA can own:
Residential real estate—single- or multi-family properties, condos, mobile homes
Commercial real estate—shops, office buildings, gas stations, and more
Vacant land
The IRS sets rules that govern all IRA investments. Many of the rules governing real estate in an IRA relate to the kind of transactions you may not make and the people you may not do business with. Breaking these rules could result in the asset being distributed immediately, triggering taxes and penalties.
Prohibited transactions: A self-directed IRA cannot own any property that is used for the personal benefit of the account holder or any disqualified person. For example, you cannot live in a house owned by your IRA.
Disqualified persons: You, your spouse, parents, grandparents, and children and grandchildren and their spouses cannot benefit from the property owned by the IRA. For example, you cannot rent an auto shop owned by your IRA to your child. [See IRC 4975 (e)(2)]
Self-dealing: If you own a business, it cannot benefit from your self-directed IRA real estate investment. For example, if you own a pool-cleaning service, you cannot hire it to maintain the pool at an apartment building owned by your IRA.
How to Get Started
There are two easy ways to get started:
Download a copy of our report that walks you through the 5 Basic Steps to Investing in Real Estate with a Self-Directed IRA.

Contact us to talk with one of The Entrust Group's trained professionals to ask general question and possible options a self-directed IRA offers.
About The Entrust Group
Entrust strives to provide personal, professional services and educationthat empower clients to control their investment choices. You can rely on The Entrust Group for up-to-date training and continuing education about self-directed alternative investments. Our reports, webinars, and live events can help you keep up with the increasing demand to diversify portfolios.