Entrust Employee Spotlight: Sean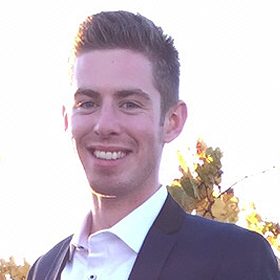 Estimated reading time: 1 minute 30 seconds
Meet Sean, an Ireland native who recently fullfilled his dream of working in Silicon Valley after college. Sean can be considered an "international employee" because he is sponsored by Entrust to work in the states. We take a lot of pride in hiring a diverse staff with different backgrounds to bring a sense of worldly knowledge to Entrust. Sean has been with the company for almost 5 months and is currently working in the marketing department.
When asked about what he enjoys about working with the company, he mentioned the friendly atmosphere, and engaging upper management. This marketing position is his first job in financial services and he is enjoying the learning experience very much. Being from Ireland, Sean loves the fact that it doesn't rain much in California. He says there's always something to do, plus the landscape is amazing. Yosemite and Tahoe have been his all-time favorite places to explore so far.
Sean's special skills include being a fast learner, a half-decent cook, and you can usually find him bragging about how he's not terrible at golf either! On his spare time he enjoys hiking, hitting the golf course, and any other sport, really. His other hobbies include making up slang words to confuse his American friends just for a laugh. He likes to cook and experiment with different foods, but if he had to choose a favorite cuisine, he would go to Mexican, Sushi, Thai and the list continues...."Maybe I love food too much," he said. One of his greatest accomplishments include being awarded TIME Magazine's 'Person of the Year' in 2006. Why don't you Google it and find out yourself?
As you can tell, he likes to joke around and brings a great postive energy to the company. Congrats on making the employee spotlight this month!