Entrust Employee Spotlight: Yassmin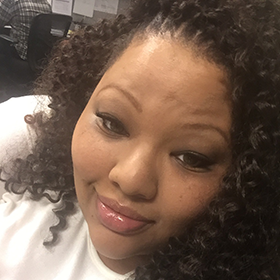 Estimated reading time: 2 minutes
Meet Yassmin, she's a California native who is a Client Service Representative at Entrust and has been with the company for over 3 years. What she likes best about working for Entrust has to do with our year-round events for holidays, birthdays and any real reason to celebrate! She enjoys attending these events and spending quality time with the rest of her co-workers. When asked about one of her special skills, she laughingly replies, "I can kind of sing." If that's the case Yassmin, we're going to have to throw a karaoke event during our next holiday party!
Some of her additional hobbies include being a youth leader at her church. This is also another place where she likes to practice her singing skills, since she's also apart of the church choir. The one thing Yassmin enjoys the most about living in California is the diversity in the Bay Area. In addition to things she enjoys, Yassmin has a son who is a one and a half years old, and he completely has her heart. She takes a lot of pride in being a mom and loves sharing sweet stories about her son during lunch breaks. We at Entrust enjoy having Yassmin apart of the "family" because of her positive energy and sweet demeanor. She is friendly and fits the role as a Client Service Representative perfectly due to her natural people-person attitude. These are just a few reasons to why we chose Yassmin for this month's Entrust Employee Spotlight. Congratulations Yassmin!
About The Entrust Group
The Entrust Group is the world's premier provider of account administration services for self-directed savings accounts, such as self-directed IRAs (gold IRAs and real estate IRAs), HSAs, and ESAs. For more than 30 years, Entrust has been an acknowledged authority in the field of alternative investments and administering self-directed, tax-advantaged savings accounts. Click on the image below to learn more about self-directed IRAs.