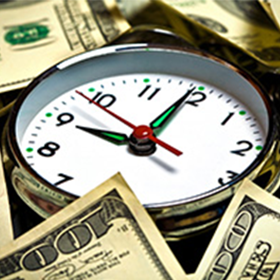 Estimated reading time: 2 minutes
Most of us think about our birthdays just once a year, but if you have an IRA and are getting close to celebrating your 70th birthday, you also need to think about your half-birthday. That's because you must start taking required minimum distributions (RMD) soon after turning 70½.
If your 70th birthday was July – December 2016, you must take your first RMD no later than April 2017.
Once you are into your 70s, you will continue to take at least one RMD by December 31 every year. If you don't take the RMD, the IRS can levy a penalty of 50% of the amount you should have taken as an RMD. The RMD applies to Traditional, SEP and SIMPLE IRAs.
How to Calculate Your RMD
The amount you need to withdraw depends on the adjusted prior year market value of your IRA. As an example, if you are calculating your 2016 RMD, the balance used is the years value as of Dec 31st of 2015. IRS Publication 590 includes worksheets and a Uniform Lifetime Table that will help you calculate how much you need to take as an RMD.
If your spouse is your sole beneficiary and your spouse is more than 10 years younger than you, you will use the Joint Life and Last Survivor Expectancy Table, also found in IRS Publication 590, to calculate your RMD.
Distributions Made Easy
When you request The Entrust Group myDirection Visa® Prepaid Card you can forget about distribution request forms, check fees, waiting for the check to arrive in the mail, and then going to the bank to deposit it.
With The Entrust Group myDirection Visa® Prepaid Card for Distributions, your RMD is automatically added to the card each month, at no additional cost. Plus, the card is as easy to use as any prepaid debit card. Amounts processed under the card are automatically tracked and reported as a distribution from your IRA, cutting out unnecessary steps.
The card has a one-time set-up fee and a low monthly fee and offers online access and support, and gives you the flexibility to schedule distribution transfers. You'll never miss a distribution deadline and be penalized. Simply arrange for your distributions to be transferred onto the card, and then use it like any prepaid debit card, anywhere Visa® debit cards are accepted.
If you are taking RMDs and would like to make the process easier by using The Entrust Group myDirection Visa® Distribution Card, get started here.