How Could the Secure Act 2.0 Affect Your Retirement Accounts?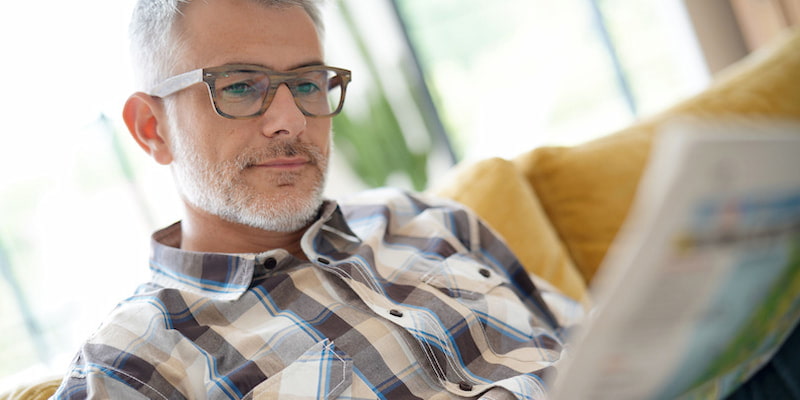 Estimated reading time: 5 minutes
Congress is currently considering a bill called the Secure Act 2.0 that could result in possible policy changes for retirement accounts. On March 29, 2022, the US House of Representatives unanimously passed the bill, but it stills needs to be passed by the Senate before it can be signed into law.
There is no guarantee that this bill will pass, however, we wanted to keep you informed and highlight the potential changes that could affect IRAs and Individual 401(k) plans. In the event that the bill does pass, it is also important to keep in mind that the provisions listed below may change before it is finalized.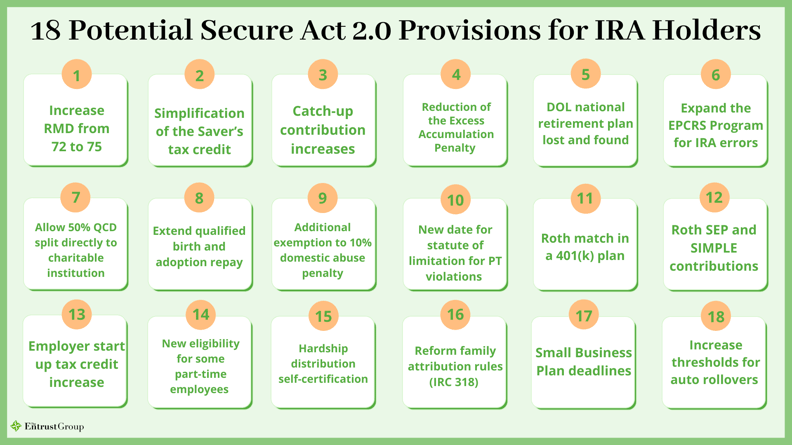 1. Required Minimum Distributions
The age for Required Minimum Distributions (RMDs) would be raised from the current age of 72 to 75.
2. Saver's Tax Credit
The multi-tiered percentages that are currently based on AGI would be simplified to one rate of 50%. This would streamline the calculation of the tax credit for lower income taxpayers.
3. 401(k) and SIMPLE Catch-up Contributions
401(k) and SIMPLE
Catch-up contributions for 401(k)s and SIMPLE plan participants between 62 and 64 years old would be increased. Effective 2023, these amounts for individuals ages 62-64 would be $10,000 and $5,000, respectively.
IRA Catch-up Contribution
Annual catch-up contributions for individuals over age 50 would allow for increases to be adjusted based on Cost-of-Living Adjustments (COLA).
4. Excess Accumulation Penalty (RMD failure)
The 50% penalty for failing to distribute the annual Required Minimum Distribution would be reduced to 25%. In addition, if the RMD is corrected and distributed at the end of "the earlier of the date the IRS discovers the issue or the 12/31 of the following year," the penalty would be reduced to 10%.
5. The DOL National Retirement Plan Lost and Found
The Department of Labor (DOL) National Retirement Plan Lost and Found would provide a mechanism to help individuals who may have terminated employment from an employer and lost track of their retirement funds. This lost and found mechanism should help those ex-participants find their missing retirement funds.
6. Employee Plans Compliance Resolution Program
This program would identify common, inadvertent IRA errors and provide a mechanism to correct those errors to avoid losing the IRA's tax-preferred status.
7. Qualified Charitable Distribution (QCD)

This provision would allow a one-time taxable distribution of up to $100,000 to be portioned with 50% distributed to a charitable institution and 50% distributed to a Charitable Remainder Trust. Since the $100,000 is a fixed amount, the provision would also allow the Treasury to increase the amount by tying it to COLAs.
8. Qualified Birth and Adoption Expenses
The repayment for the penalty-free distribution to pay for qualified birth and adoption expenses would be extended and allow for the amount(s) distributed to be repaid for up to 3 years.
9. Exemptions for Domestic Abuse Victims

An individual could take a distribution from a retirement plan without being subject to a 10% early distribution penalty if they self-certify that they are a victim of domestic abuse.
10. Prohibited Transactions on IRAs
Only the portion of an IRA associated with a prohibited transaction would be taxable, which would avoid the whole IRA losing its tax-preferred status. Under this provision, the statute of limitations would also begin as of the date the tax-payer files a tax return for the year of the violation. This would provide relief for individuals who may not have known of the violation.
11. Roth Match in a 401(k) Plan
Currently, matching contributions in a 401(k) plan are made on a pre-tax basis. This provision would allow employers to make a Roth (post-tax) matching contribution.
12. SEP and SIMPLE Contributions
SAR-SEPs and SIMPLE employer contributions are historically made on a pre-tax basis. This provision would allow the option to make a Roth (post-tax) SAR-SEP or SIMPLE contribution.
13. Employer Startup Tax Credit
The tax credit employers, who have at least one rank and file employee, receive for setting up an employer plan (i.e., SEP, SIMPLE or 401(k), as long as they have not maintained another plan during 3 prior years) would increase. The credit is currently the greater of 50% of the first $1,000 of expenses ($500.00) or the lesser of $250.00 per rank-and-file employee or $5,000, and the credit can be availed for 3 years. Under this new provision, it would increase from 50% to 100% for the first year and second year, 75% for the third year, 50% for the fourth year and 25% for the fifth year.
14. 401k Eligibility Requirements
This new provision would lower the 3-year eligibility requirements to 2 years for part-time employees who have worked at least 500 hours.
15. Hardship Distribution
Employers would be allowed to rely on an employee's self-certification for both hardship distributions and proof that the hardship distribution is not more than the actual amount needed for the hardship.
16. Family Attribution Rules (IRC 318)
Spouses who hold separate and unrelated businesses in community property states would no longer be assumed to have ownership in each business. Spouses with separate and unrelated businesses and minor children would no longer have attribution as well. These provisions would eliminate business owners being unreasonably penalized during family disputes.
17. Deadlines
If a small business adopts their plan by their tax return due date plus extensions, they would be allowed to defer into the plan, and the deferral date would be effective as the last day of the plan year.
18. Auto Rollovers
The threshold amount for non-responsive terminated participants of a 401(k) plan whose balances roll over to an eligible IRA custodian would be raised from $5,000 to $7,000.
We always want our clients to have the most up-to-date information about anything that might impact their retirement portfolios. We are closely monitoring the progress of this bill, and we will provide you with any updates that might affect your self-directed retirement accounts.
If you have not already subscribed to our newsletter, sign up in the box at the bottom of this page to get the latest updates delivered straight to your inbox.