Why IRA Academy is Important for Financial & Retirement Professionals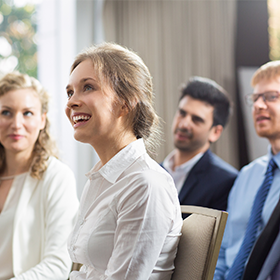 Estimated reading time: 3 minutes
This year, we have both a new tax year and a new tax law that could change many people's approach to investing and saving. Financial and retirement professionals will have a lot to learn about the new tax law.
While you're in student mode, why not make this the year for you to update your knowledge of IRAs (individual retirement accounts) and employer-sponsored retirement plans? (SEP and SIMPLE IRAs, to name two.)
There's no better place to gain that knowledge and accreditation than The Entrust Group's IRA Academy in Nashville.
Now in its fourth year, the IRA Academy is your opportunity to update your familiarity with current IRA rules and regulations, strengthen your grasp of the underlying legal concepts, and gain a deeper understanding of the potential for self-directed retirement savings. Armed with the knowledge you've gained at the IRA Academy and designation by passing the exam, you will be able to serve your clients better, more completely and confidently.
The Certified IRA Services Professional designation is a benchmark used by some of the major financial institutions in the retirement industry. This designation is through the American Banker's Association.
We will be covering all of the topics on the outline provided by the Institute of Certified Bankers. Here is a link to where Entrust is listed.
Of the participants in the 2017 IRA Academy, 89% would recommend the class to others.
Specifically, they appreciated the many examples provided by instructor John-Paul Ruiz, QKA, CISP, Entrust's Director of Professional Development. Described as "energetic," "a true expert," and "passionate," participants also praised his grasp of the subject matter and ability to provide "multiple explanations and scenarios."
The course covers topics such as:
Beneficiary designations
IRA contributions
Legal concepts
Prohibited transactions
Transfers and rollovers
There also are opportunities for you to network and broaden your professional community during breaks and lunches.
The five-day class prepares you to take the exam for the Certified IRA Services Professional (CISP) designation, which will be proctored by The Entrust Group on-site the last day of the Academy.
"John-Paul provided a good balance between real-world scenarios and test preparation," said one 2017 participant.
The IRA Academy has been approved by the Institute of Certified Bankers (ICB) and the American Banking Association (ABA) for continuing education credits for these designations:
Certified IRA Services Professional (CISP)
Certified Retirement Service Professional (CRSP)
Certified Trust and Financial Advisor (CTFA)
Sign up to receive more information about the 2018 IRA Academy as we develop it. You'll be among the first to know about the agenda, curriculum, and registration details.