Best Place to Retire Abroad for Americans: Ireland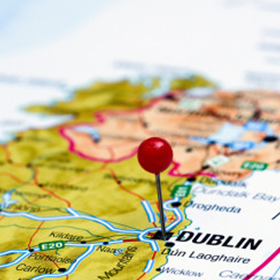 Estimated reading time: 3 minutes
"Oh Danny Boy, the pipes, the pipes are calling. From glen to glen and down the mountainside." Those famous Irish pipes are calling more and more people to retire in Ireland. This St. Patrick's Day we're talking about why you may want to consider Ireland as your future retirement destination. In 2015, the "Emerald Isle" placed 18th on Forbes' list of the most popular places to retire. It's easy to see why: The Irish have a well-deserved reputation for hospitality and charm. Its green rolling hills, craggy hillsides, and dramatic coastline offer a wealth of natural beauty. After some research, we found numerous reasons
Ireland has a lot of practical advantages as well. Everyone speaks English, and its close relationship with the US—through the coming and going of immigrants and family members—means you can easily find lots of familiar grocery items on the shelves and American shows on the "telly." According to the US Census Bureau, more than 24 million Americans say they are fully or partially of Irish decent. Plenty of retirees visit or retire to Ireland to get back to their roots. Additionally, Dublin's Shannon Airport boasts easy connections with many US airports, and it's equally easy to hop over to England or Europe with cheap airfares that work.
An Attractive Green Real Estate Market
Housing costs in many Irish cities and towns are a relative bargain. As you might expect, Dublin tops the rental market, averaging more than €1,000 (US$1,130). But in smaller towns, rents average half that amount. If you're looking to buy, the real estate market is still recovering from the 2008 financial crisis, making it an attractive market for buyers. The average price is now around €193,000. House styles ranges from modern apartment buildings to modern bungalows, picturesque cottages to ivy-covered mansions.
Car Talk
Cities like Dublin, Cork, Galway, and Limerick have solid bus systems for getting around. However, public transportation is spotty in the countryside. Keeping a small to midsize car will cost approximately €250 a month, including insurance, road tax, maintenance, annual road test and fuel for around 10,000 kilometers per year. But remember that petrol—that's gas to those of us on this side of the Atlantic—costs more. An average price right now is €1.44 a liter; that would be approximately $7 a gallon. And of course, you need to get used to driving on the other side of the road. In addition, public transportation is free for everyone over 66 (if they are living there permentantly.)
Taking Care of Taxes and Health Insurance
Your individual tax situation is something you'll want to discuss with your advisor, but you may well be making income tax payments to both Ireland and the US. And because Medicare doesn't apply outside the US, and you won't qualify for Ireland's public health care, you'll want to purchase private health insurance. In Ireland, the cost of health insurance is indexed to your age, under a system called "lifetime community rating."
Filling Your Pot of Retirement Gold
Some people are drawn to Ireland by family heritage, the relaxed pace of life, or the desire to be in an English-speaking country in the European Union. Lush golf courses, zero natural disasters, and world class produce can also be included into the reasons why it works as the perfect retirement destination. Whatever your reason, waiting to find that lucky four-leaf clover is not the best retirement savings plan no matter where you want to retire. You're better off filling up your pot of gold over time with a self-directed retirement plan that puts you in control.
For more information about planning for retirement please visit our Entrust Learning Center and utilize our many resources to help you stay on track for your dream retirement, where ever it might be!