You Asked, We Answered: 3 Tax-Advantaged Plans For Small Business Owners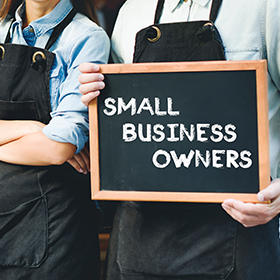 Estimated reading time: 3 minutes
For September's webinar, we covered 3 tax-advantaged plans for small business owners. Participants who joined our national webinar had the opportunity to ask John Paul Ruiz, our Director of Professional Development at Entrust, questions regarding their small business retirement plans for employers and themselves as business owners. Continue reading to see what types of questions were answered:
Q: What are some of retirement plans for a sole owner of a business who has no employees?
A: There are three small business plans available to employers. Those are the SEP, SIMPLE and Individual 401(k) plan.


Q: My wife is enrolled in a 401(k) with her employer, but she also works in our own company. Would she be eligible to participate in our own company's Individual 401(k) plan?
A: She can, but keep in mind that the deferral contributions has a maximum based on contributed amounts to all 401(k) plans combined. The maximum is $18,000 plus an additional $6,000 if she is age 50 and over.


Q: If I have more than one business, can I have more than one plan type? Like a Roth 401(k) for my main business and a SIMPLE plan for a second smaller business?
A: If you own and control all the businesses, you may be a controlled group. If so you cannot have different plans for the different plans you own. May want to consult with your tax or legal advisor.


Q: I have my employer's 401(k) and I cannot rollover the existing contributions, but can I have an additional self-directed IRA? What would be the contributions limits? I'm in the >200k income bracket.
A: Having an employer plan does not prohibit you from contributing to a Traditional IRA. The eligibility to deduct the contribution from your tax return is the only thing that is affected. Check with your tax advisor.


Q: Can I contribute as an employee while I have my own business and also contribute there? As long as I do not exceed the contribution limits?
A: For plans that have both a deferral and employer contribution like a SIMPLE IRA and 401(k), that answer is yes.


Q: We're a two person business, with multiple different job titles. What would be our best retirement plan options?
A: If both of you are owners, you have 3 plans available to you. Those are the SEP, SIMPLE and Individual 401(k) plan. To figure out which one is the best for you, it is best to talk it through with your Certified Public Accountant (CPA).


Q: I just spoke with an accountant/CPA along with my broker who said that I could open a Cash Basis Pension Plan that would allow for me to invest up to $180k per year. I earn between $300k to $400k per year. It sounds like that is quite a different animal than the three strategies here. Do you all handle these accounts too?
A: Unfortunately we do not provide the documents for such plans. However, if you have a plan established at another financial institution, you can transfer some of the assets to Entrust purely from a record keeping relationship only.


Q: What were the deadlines for 2016 tax year again? If I filed extension for 2016, which IRA options can still be opened before extension deadline?
A: Extensions do not apply for individual contributions such as IRAs. For employer sponsored plan contributions, you can still contribute to a SEP. You may want to consult with your tax advisor on whether you have or have not passed your tax return due date.


Q: Can you handle a profit sharing Keogh as a rollover from Fidelity without tax issues?
Yes, an IRA at The Entrust Group can accept a direct rollover of funds from a profit sharing plan.
Thank you to everyone who participated in our webinar. We encourage our readers to post any additional questions regarding self-directed IRAs or retirement planning in the comments section below. You can view the full recording of this webinar here to get answers to questions which are not listed in this article.
Want to join us for our next webinar about investing like a venture capitalist? Find the details here.