Real Estate Investing with a Self-Directed IRA
Just Got Easier and More Convenient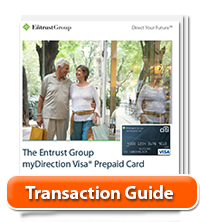 With The Entrust Group myDirection Card, you can take your real estate investment strategies to the next level. This groundbreaking tool allows for quick and convenient real estate transactions when you invest within a self-directed IRA.
You can invest when and where you want with a simple swipe of your card.
One card, many benefits.
Request our Transaction Guide with Frequently Asked Questions today and discover how The Entrust Group myDirection Card can help you:
Save money and lower the cost of maintaining your assets
Gain instant access to your real estate IRA funds
Pay for IRA-owned asset maintenance, such as property taxes, property management fees, upgrades: paint, remodeling, etc., and more
Automatically add funds to your card
Access your account online, 24/7
Learn More by Requesting Our Transaction Guide with FAQ