White Paper: Precious Metals Investing in Retirement Accounts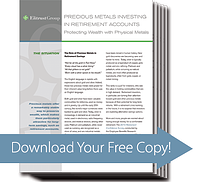 It is no secret that recent market volatility has shaken investor confidence. Retirement investors, in particular, are looking for new and innovative ways to protect their savings and manage risk, but most don't know about the benefits associated with precious metals investments.
Are you interested in learning about this popular diversification strategy?
Download this white paper to better understand:
How investing in precious metals can help you manage risk.
The process of purchasing precious metals with a retirement account.
The 3 ways you can invest in precious metals.
How to remain compliant with precious metals IRA investing regulations.