10 Martin Luther King Jr. Quotes That Will Surely Inspire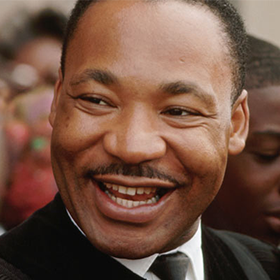 Estimated reading time: 3 minutes
Every mid January we comemorate a universal hero, Dr. Martin Luther King Jr. On this day, we celebrate his life, accomplishments and his dreams of making the United States of America a tolerable nation for all. MLK is responsible for encouraging the Civil Rights Movement and forming a sense of brotherhood and sisterhood, no matter what ones race. In honor of MLK Day, we present 10 of our favorite MLK quotes:
10. "Faith is taking the first step even when you don't see the whole staircase."

9. "Every man must decide whether he will walk in the light of creative altruism or in the darkness of destructive selfishness."

8. "Whatever your life's work is, do it well. A man should do his job so well that the living, the dead, and the unborn could do it no better."

7. "The art of acceptance is the art of making someone who has just done you a small favor wish that he might."
6. "I believe that unarmed truth and unconditional love will have the final word in reality. This is why right, temporarily defeated, is stronger than evil triumphant."

5. "Nonviolence means avoiding not only external physical violence but also internal violence of spirit. You not only refuse to shoot a man, but you refuse to hate him."

4. "Oppressed people cannot remain oppressed forever. The yearning for freedom eventually manifests itself."

3. "The function of education is to teach one to think intensively and to think critically. Intelligence plus character - that is the goal of true education."

2. "We must develop and maintain the capacity to forgive. He who is devoid of the power to forgive is devoid of the power to love. There is some good in the worst of us and some evil in the best of us. When we discover this, we are less prone to hate our enemies."

1. "Our scientific power has outrun our spiritual power. We have guided missiles and misguided men."
As we celebrate this great leader next week, take some time to read about his life and remember how he devoted his life to changing our country for the better. Happy MLK Day!
Our office will be closed Monday, January 18th for observance of Martin Luther King, Jr. Birthday.