3 Precious Metals You Can Buy with your Self-Directed IRA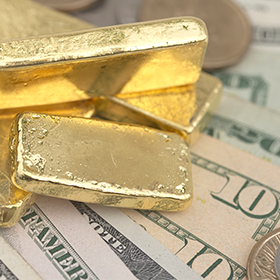 Estimated reading time: 2 minutes 20 seconds
Self-directed IRAs allow investors to use alternative investments, such as precious metals, to save for retirement. These retirement accounts offer large tax advantages to investors, presenting great potential for tax-free returns on gold and other metals. As a nontraditional commodity, precious metals can help you to diversify a retirement portfolio that already contains other assets - they can help protect against inflation and market volatility. Trends show that commodity values frequently do not move in tandem with those of stocks and bonds. In addition, these metals provide you with the opportunity to realize substantial appreciation.
These are the precious metals available to you through a self-directed account:
Gold
If you have a self-directed IRA, you can purchase both coins and bars containing gold. In addition, you can use one of these self-directed, tax-advantaged savings accounts to buy the stocks of companies that are involved in mining gold. A study from 2012 shows that physical gold has outperformed the S&P 500 9 out of the last 12 years, and grown 600% in value since 2000.
There is significant speculation as to what factors serve as the underlying basis for the price of this commodity. Some consider gold to be the world's reserve currency, as it will still hold value regardless of how much the purchasing power of money is eroded by the future actions of central banks. Others think of the precious metal as being a fear hedge, and something that investors flock to when their confidence in the market is lacking.
Silver
This is another metal that is sought out by many investors, both for its ability to serve as a store of value and also because of its use in producing many different goods. The price movements of silver have been known to follow those of gold.
If you want to invest in silver using a self-directed IRA, you have the same options outlined above; silver bars, certain coins, and silver ETFs.
Platinum
Another precious metal in which you can invest with a self-directed IRA is platinum. Platinum is used as a raw material for the creation of many goods. One major application of this commodity is building catalytic converters, which puts platinum in fairly high demand among manufacturers.
Palladium
The final precious metal you can invest in using a self-directed IRA is palladium. Like platinum, this metal is also largely used when building catalytic converters. If you want to invest in this commodity, you can purchase palladium coins and bars, as well as stocks of firms that extract the metal.
Learn more about what precious metals are allowed in your self-directed IRA here.
The Entrust Group has a precious metals service center dedicated specifically to Gold IRA investors. Contact us today to learn more about establishing one of these accounts, as well as your available investment options.