Entrust Employee Spotlight: Vanessa C.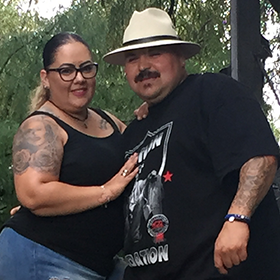 Estimated reading time: 3 minutes
Meet Vanessa, she is an Alternative Assets Associate who has been working at Entrust for almost 10 months! Let's learn more about her:
What do you enjoy about working for the company?
The people; everyone has been so friendly and very welcoming to me.
What special skills do you have?
I'm a fast learner and super detail oriented. I also love to help people!
What is your favorite type of food?
Pizza and wine ;)
Do you have any hobbies?
I love to read and spend time with my family.
Where are you from originally?
I was born in El Paso, TX, and raised in Richmond, CA.
What do you enjoy about living in your state?
The diversity.
Fun facts about you:
I've been married for 16yrs, have 2 kids: girl (15yrs) and boy (12yrs)
My favorite color is black
I have 13 tattoos
I love to roller skate
Can you tell us more about your tattoos?
Sure, I have a Marilyn Monroe/ death skull and a quote by her on my right arm. On my hands I have a heart with lifeline, a small heart on my pinky finger, and a Texas state with the loan star on my ring finger. In addition to those hand ones, I have my kid's names in a Hibiscus Flower on my wrist. I also got a tattoos in dedication to my husband and my grandparents. Once I even went to get tattoos with my cousins and now we have matching quotes. I can't list all of them, these are just a few! I like to express myself through tattoos, and luckily I've been able to go to one particular tattoo artist whom I love and have been with for many years.
Any advice to someone who wants to get tattoos?
Make sure you know exactly what you want, it'll be on your body forever!
Thank you Vanessa for taking part in our Entrust Employee Spotlight. We enjoy learning more about our employees and what makes them so special and different. To learn more about employees at The Entrust Group, please visit our Entrust News page here.
To provide personal service, Entrust maintains local offices that are staffed by professionals with first-hand experience related to self-directed IRAs, real estate and financial services. We take pride in providing educational resources through our Learning Center to help clients and professionals understand the broad spectrum of investment options, regulations, and requirements, and the benefits of self-direction.