Gold Demand Down, But It Still Glows for Precious Metals Investors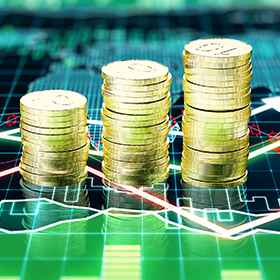 Estimated reading time: 2 minutes
It is a truism that the price of gold and the stock market often work in opposition: when the stock market surges, gold prices decline.
In the first quarter of 2018, while the stock markets had their volatile moments, overall returns were positive. In contrast, both the gold price and demand fell. For retirement savers who use their Self-Directed IRAs to invest in precious metals, the mix of low gold prices and low demand could present a glowing opportunity.
According to a report from the World Gold Council, investment demand was down 7% compared to 2017. Including investors of all types—individuals, exchange-traded funds, and central banks, for example—total gold investment in the first quarter reached only 973 metric tonnes, compared to 1,047 metric tonnes during the same period in 2017.
The fall was especially acute in demand for gold coins, notably for U.S. Mint Eagle coins, which saw sales fall 59%, year-on-year, in the first quarter of 2018. In the month of April alone, sales dropped 25%. Investors also turned their backs on exchange-traded funds backed by gold during the first quarter.
The global gold market has been further complicated by the recovering strength of the yuan. In 2017, concern over the Chinese currency caused Chinese investors in particular, to move to gold. In the intervening months, the yuan has appreciated by approximately 9%.
On the plus side, a relatively stable gold price and strong overall economic growth contributed to demand for gold jewelry, notably in China and the U.S. The growth in these two countries offset reduced demand in India. In addition, the wireless technology sector—smartphones, game consoles, and security systems—boosted demand in the industrial space.
Central banks added 116 metric tonnes to their gold reserves, the highest level of first-quarter investment since 2014.
In its report, the World Gold Council notes that, "A relatively stable gold price and rising interest rates contrasted with sharp equity-market volatility and periods of heightened geopolitical risk to create mixed signals for gold investors," in the first three months of the year.
To learn more about the opportunity to invest in gold and other precious metals using a self-directed account with The Entrust Group, visit our Precious Metals Center.

Entrust does not provide tax and advice. It is highly recommended to seek the assistance of a tax or legal advisor before entering into any investment transaction.