New Study: Year After Year Gold Stays Strong for Investors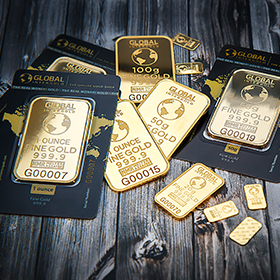 Estimated reading time: 3 minutes
Even without the recent stock market convulsions, investors big and small are seeing the value of precious metals as part of a well-rounded portfolio. The World Gold Council maintains one of the world's oldest assets—gold—pairs well with one it its newest—alternative assets.
This is useful information for Self-Directed IRA investors who have the freedom to hold both of these asset classes in their tax-advantaged retirement savings accounts.
Broadly speaking, alternative assets include a wide range of investment choices that are neither stocks nor bonds. This includes: private equity, notes, real estate, and commodities, among others. Alternative assets offer two advantages valued by investors: diversification and potential increased returns. Often, their downsides include illiquidity and high correlation to the stock market.
Gold, on the other hand, offers liquidity and often behaves in opposition to the stock market. It also has a centuries-long track record as a source of return and a store of value.


The Lure of Liquidity
Anywhere from $150 to $220 billion in gold is traded on the spot and over-the-counter markets on a typical day. Gold is traded 24/7 in markets around the world. It is hard to imagine a more liquid investment.
Compare that to the illiquidity of assets like real estate and private equity. Real estate transactions—even in the hottest markets—take time to complete. Private equity, by its nature, is not widely traded and some investments place limits on when and how owners can sell their shares.
While retirement savers often have the benefit of investing for the long-term, liquidity can be a consideration. For example, if your IRA is invested heavily in real estate, you will still need liquid assets to pay for upkeep and operating expenses. Likewise, your private equity shares may be hard to sell when it comes time to start taking minimum required distributions. Having gold as part of the liquid portion of your Self-Directed IRA may help in these situations.


Gold to Diversify and Protect
Gold's reputation as a source of value dates back to the ancient world. As such, gold tends to reduce your overall portfolio risk. This is notably true in periods of market volatility or in an extended bear market. In recent years, gold rose in value during the Gulf War, the dot-com bust, the aftermath of 9/11, the recession of 2002, and the 2008 financial crisis.
Diversifying your portfolio with gold can also be a step toward attaining higher risk-adjusted returns overall. The World Gold Council has found that allocating between 2% and 10% of a portfolio of traditional assets produced higher risk-adjusted returns. For a portfolio that includes alternative assets, the same result occurred with a 4% allocation to gold.
There's no denying it: The stock market had a very good year in 2017. But so did gold. Its price rose 13%. That's a better performance than bonds. Gold's strong 2017 performance is evidence that it can perform even when the overall market sentiment is positive. Taking a longer view, the value of gold has increased nearly 8% over the last 20 years. That is in line with, or better than, many alternative asset classes.

Fine-tune Asset Allocation with Self-Direction
Whether you already have a Self-Directed IRA or not, thorough due diligence suggests looking at gold and other precious metals to further diversify and protect your portfolio against risk. There's no better place to start than by visiting The Entrust Group's website for more information about precious metals and Self-Directed IRAs.
Notice: As with any investment, it is advisable to consult with your financial and or tax advisor before proceeding with this type of investment. Entrust does not endorse investment nor provide investment and tax advice.