Cryptocurrency vs. Precious Metals: Which One Wins?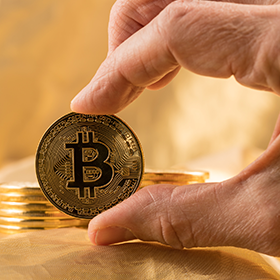 Estimated reading time: 3 minutes
Smartphones, fashion, technology, athletic shoes—the world seems to be obsessed with the latest, the newest, the next hot idea. But is that always the best approach for an investment strategy?
Take for example, the current craze for cryptocurrencies. They are the talk of investment and technology forums. They have central bankers around the world considering how—or whether—they can be regulated. In contrast, gold and other precious metals are among the most established investment assets in the world.
Let's explore a few considerations when it comes to assessing cryptocurrencies and precious metals—gold in particular—as investment assets.

Defining Terms
Gold scarcely needs an introduction. It has been around since the creation of the universe. You can hold it in your hand, wear it as jewelry on your finger, wrist, or neck. You can invest in it as a physical asset or through an exchange-traded fund.
Cryptocurrencies, were first created in 2009, with the appearance of bitcoin. They are "mined" using open source software based on blockchain technology. (And coincidentally consuming vast amounts of computing, storage, and electrical resources). Other common cryptocurrencies include ethereum and litecoin.


Characteristics Shared (or not) by Gold and Cryptocurrencies
Jordan Eliseo, CEO of ABC Bullion, recently listed seven monetary characteristics that gold and cryptocurrencies have in common, or that separate them.
Like other forms of money, Eliseo notes that both gold and cryptocurrencies are durable, portable, divisible, and are easily recognizable.
Like money, gold has a relatively stable price point, set by established exchanges. It also has intrinsic value. The price of cryptocurrencies, by contrast, has fluctuated widely and it is far too soon to assess their long-term intrinsic value.
In terms of the two assets' ability to function as money, cryptocurrency is more useful as a medium of exchange than gold in today's world. Indeed, it is possible—albeit unlikely in most places in the world—to pay for your morning cup of coffee using a cyber currency. It's fair to say that you would not be able to do the same using a gold ingot.
On the other hand, gold has a centuries-old reputation as a store of value. Cryptocurrencies have a long way to go before they attain that stature.


Other Distinctions Between Precious Metals and Cryptocurrencies
One thing that distinguishes precious metals as investments is the ability to obtain them in physical form, such as ingots, coins, and jewelry. Cryptocurrencies, by their very nature, do not exist apart from the algorithms that "mine" them and the blockchains that track their movements.
Gold is traded on numerous international exchanges, with agreed-upon regulations and safeguards. There are few established exchanges for cryptocurrencies.
Indeed, one of the most reputed cyber currency exchanges, Mt Gox imploded a few years ago, in a way that has yet to be fully explored and explained. That created a $460 million loss, and their hackers have caused other losses more recently.
As to price, the gold price tends to trend up or down with relative moderation. This is especially true compared to cryptocurrencies, whose value can fluctuate wildly, as can be seen on the Coin Desk website.
To learn more about which precious metals you can hold in a Self-Directed IRA, and how easy The Entrust Group makes it to invest, visit our Precious Metals Center.