What Financial Advisors Need to Know to Help Baby Boomers Prepare for Retirement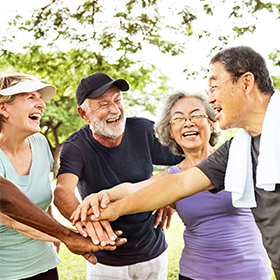 Estimated reading time: 4 minutes
Baby Boomers coined the phrase "don't trust anyone over 30." Today, they are anywhere from 53 to 74 years old and don't trust their retirement savings—or the Social Security system—to provide a comfortable retirement.
A recent survey by the Insured Retirement Institute found that only 24% of Baby Boomers are confident their savings will last throughout their retired years. And according to calculations done by the Center for Retirement Research at Boston College, they're right. Its national retirement risk index indicates that 52% of working–age households (many of whom are Baby Boomers) are "at risk" of not having enough savings to maintain their living standards in retirement.
Factors Putting Baby Boomers' Retirement Financial Security at Risk
The unstable real estate market. For many people facing retirement, their residence represents their most valuable asset. The value and amount of equity people have in their houses—or to put it another way, how much they owe on their mortgage or home equity loans—affects their retirement security. The more equity, the less debt, the better for one's financial security. However, many people lost equity or their homes lost value in the 2008 financial crisis and haven't yet fully recovered.
Rising health care costs. More than seven out of 10 people responding to a recent Nationwide Retirement Institute survey revealed they are "terrified" of what health care costs will do to their retirement budgets. And while 61% plan to use Medicare as their main source of health care, their top concern in retirement is unexpected medical costs. Nor are they completely informed about the cost of health care in retirement. The Insured Retirement Institute survey revealed that Boomers estimate they will spend 23% of their income on health care in retirement. The real cost is closer to 33%.
Divorce. Ending a marriage became easier and shed a lot of its moral discredit just when Baby Boomers were marrying. And divorcing. And remarrying. As they age, Baby Boomers continue their divorcing ways. Data from the National Center for Family & Marriage Research shows that the divorce rate for 55 to 64 year-olds more than doubled from 1990 to 2012. And divorces among couples 65 and older tripled. When a couple splits up, it also divides the retirement nest egg. As a result, 24% of divorced Baby Boomers expect to be worse off in retirement than if they had remained married.
Where and How Baby Boomers are Saving for Retirement
Baby Boomers are the first generation to have worked most of their careers under the protection of ERISA (the Employee Retirement Income Security Act), passed in 1974. Along with establishing standards for pensions and employee benefit plans, ERISA also introduced IRAs to the retirement landscape. This allowed Americans to create their own retirement savings accounts, with tax benefits.
The tax benefit of a traditional IRA is immediate: contributions are tax-deductible up to an established limit. Contributions to Roth IRAs, introduced in 1997, are taxed, but you pay no tax later when you take distributions. For both types of account, the assets held in the account grow tax-deferred.
Forty-three years after the passage of ERISA, Americans hold $7.3 trillion in assets in their IRAs. That's more than is held in traditional pension plans, also called defined benefit plans ($3.14 trillion) or in defined contribution plans like 401(k) plans ($5.4 trillion).
Yes, $7.3 trillion is a lot of money, but it is not evenly distributed. Not even one-third of US households have an IRA, and a mere 14% contributed to an IRA in 2014. (Statistics from PlanSponsor magazine.)
Baby Boomers' Use of Financial Advisors
The 2015 report on Baby Boomers preparing for retirement by the Transamerica Center for Retirement Studies notes that only 40% of Baby Boomers use the services of a professional financial advisor. A mere 14% have a written plan for retirement readiness.
While too few Baby Boomers work with a financial advisor, 90% of those who do are actively saving for retirement. Equally important, more than 80% of them believe they are better prepared for retirement as a result of their relationship with a financial advisor. (Statistics from Insured Retirement Institute)
Financial advisors have a large role to play in educating and assisting Baby Boomers who have been saving for retirement and want to know more about the financial implications of transitioning from work to retirement. This is assistance that few financial institutions or employers offer.
Improve Your IRA Knowledge and Help Your Baby Boomer Clients
The Entrust IRA Academy helps financial advisors sharpen their knowledge of IRAs and IRA-based employer-sponsored retirement savings vehicles. It also gives you an opportunity to earn continuing education credits from the American Bankers Association and Institute of Certified Bankers. Learn more abut the IRA Academy.