Once you have decided to open a self-directed Precious Metals IRA, you have three more important choices to make. You will need to select:
A custodian for your self-directed IRA
A dealer who will buy and sell your precious metals
A depository where the metals will be stored


Self-Directed IRA Custodian
Also called an administrator, this is the entity that handles all of the documents needed to establish, fund, and complete transactions in your Precious Metals IRA. Entrust administers nearly $2.7 billion in total assets, and all cash deposited by account owners is fully insured by the Federal Deposit Insurance Corporation (FDIC) on amounts up to $5mm. The administrator also is responsible for recordkeeping and for making sure that all necessary reports are submitted to the IRS, accurately and on time. We also pay the depository storage from your IRA. Your account is updated regularly, and is always available to you through our online Entrust Client Portal.
A reputable administrator will not try to sell you any particular investment product or even recommend a specific precious metals dealer or depository. Those choices are up to you.
What a good administrator should do is help you become a more knowledgeable investor by giving you education resources and materials to deepen your understanding of the precious metals space, as well as other alternative investment options. For over 36 years, Entrust has dedicated resources to creating and sharing a vast storehouse of educational materials, ranging from workshops and articles to webinars and videos in our Learning Center.
And while we don't offer investment advice, our staff is fully trained and up-to-date on the rules and regulations that govern self-directed accounts. When you work with Entrust as your self-directed IRA administrator, you can rest assured that you are working with an industry leader.
Precious Metals Dealer
As the name says, these are firms or individuals who make deals for the sale or purchase of precious metals. In the most traditional sense, it is someone who stands ready to make a bid and offer price on gold for a minimum of 500 ounces at a time. Today, the name is also used to describe firms that accumulate an inventory of, say gold, and sell it to coin dealers, jewelers, or investment companies.
You will need to use a precious metals dealer—or more than one, if you choose—to buy and sell the physical metals owned by your self-directed IRA. The Federal Trade Commission offers insights into what to look for in a precious metals dealer.
Precious Metals Depository
The third party you will work with is a depository, where your precious metals will be stored. The IRA does not allow you to take physical possession of the metals – no burying it in the backyard. This requirement is intended to preserve the tax-advantaged nature of the metals you own.
Entrust works with five depository companies in the United States, all approved by the IRS for use by self-directed IRA account holders, operating in seven locations nationwide. Your precious metals dealer may also have a recommendation.
CNT Depository, Inc. (Bridgewater, MA)

Dakota Depository Company (Fargo, ND)
Delaware Depository Services Company (Wilmington, DE)
Idaho Armored Vaults, LLC (Nampa, ID)
Click here to view a more detailed list of your domestic depository options.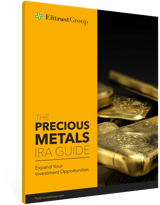 Kick-start your retirement with gold, silver, and other precious metals
Expand your investment opportunities with The Precious Metals IRA Guide
Download Your Free Guide