Precious metals have been recognized as a form of currency for centuries. Today, it also offers a way to diversify your investment portfolio, including your retirement savings accounts. The IRS allows you to own gold and other precious metals (silver, platinum, and palladium) in a Traditional, Roth, SEP or SIMPLE IRA. This is known as a precious metals IRA.
Diversification with Precious Metals
Diversifying is one of the most important strategies any investor can follow. But investing in precious metals is unavailable through the retirement accounts marketed by most banks and brokerage houses. Only a self-directed IRA gives investors the freedom to invest in physical gold (or silver, or platinum, or palladium).
Aside from the current low price, the World Gold Council, a global authority on gold, offers four reasons to invest in one of the world's most precious metals.
The 4 reasons are:
Positive economic growth supports demand for gold.
Rising interest rates don't necessarily depress gold prices.
Gold is a favorable portfolio hedge.
Limits on mine production and falling rates of gold recycling keep the market in balance.
The IRS allows you to own physical precious metals in a self-directed IRA, with some limitations related to form and refinement and it has to be in the possession of the Trustee. As with many investments, making the right precious metals investments requires due diligence and attention to detail. The Entrust Group has the materials you need to learn more about Precious Metals IRAs and due diligence when selecting your investment.
In your Precious Metals IRA, you may hold:
Physical metal: gold, silver, platinum, and palladium in various forms approved by the IRS
Mining stocks
Precious metal ETFs (exchange-traded funds)
It's important to keep in mind, that the investor does not physically hold the precious metals and that the metals are held in a depository institution.
The Entrust Group has a dedicated professional staff in our Precious Metals Center. Contact us or read our online educational materials to learn more about precious metals investing for your retirement.
FREE GUIDE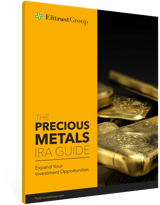 Kick-start your retirement with gold, silver, and other precious metals