5 Partnering Strategies To Help Your IRA Funds Go Farther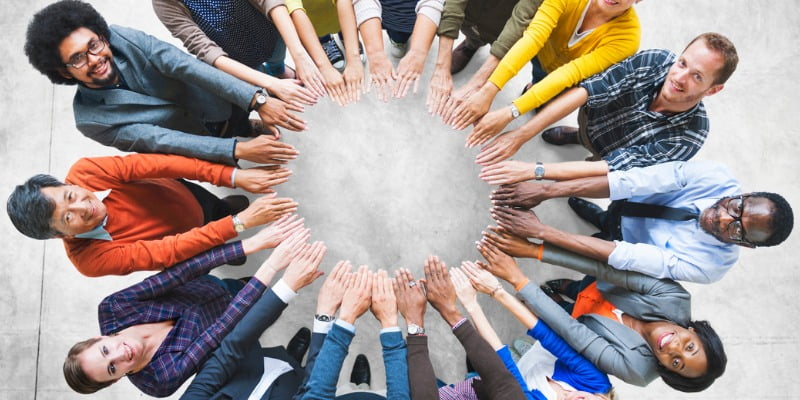 Reading time: 4 minutes
Self-Directed IRAs empower you to invest in the assets you find attractive. Real estate is one of the most popular assets among Entrust clients. However, real estate prices are high—and rising in many parts of the country.
The balance in your IRA may not be sufficient to enter the market in a significant way.
Fortunately, partnering your IRA with other funds and entities can help you obtain the money needed to purchase anything from single and multi-family housing to commercial property, and even unimproved land. On top of generating additional funds, this strategy also helps mitigate risk.
Strategy 1: Partnering with Another IRA
Your IRA can partner with any IRA to purchase a property. The partnered IRAs share in the rental income and expenses, according to their percentage of ownership.
The Initial Purchase Exception
If you've invested in real estate using your Self-Directed IRA, you know all about disqualified persons: the relatives and entities barred from doing business with your IRA's real estate.
You may not know that a Self-Directed IRA can partner with anyone at the time of initial purchase—even a disqualified person. Thus, you can partner with your spouse, a parent, or child to make the initial purchase.
However, no subsequent business can be conducted with a disqualified person beyond the initial purchase. For example, you may partner with your son's IRA to buy a property, but you still can't hire his construction firm to build on it.
Strategy 2: Partnering with Non-IRA Funds
Not all the funds used to buy the property have to come from a tax-advantaged retirement savings account. You can use your own personal savings or partner your IRA funds with money from a different source.
For example, you could partner with an investor who makes her living investing in real estate.
Once again, for the initial purchase, additional funds can come from what would otherwise be a disqualified person, as a child or parent.
Strategy 3: Partnering with Multiple Parties' IRAs or Non-IRA Funds
If you're interested in large-scale real estate investments, you need a big pool of cash to draw from. This is particularly true regarding commercial real estate deals, which can easily reach the millions.
While there is no limit to the number of entities with whom you can partner, it might be practical to stick with a number you find manageable. If you need advice on this matter, your financial advisor is likely to be a good source.
Strategy 4: Owning Leveraged Property
In this scenario, your IRA partners with a lender.
Your Self-Directed IRA makes the down payment on a property and the lender finances the balance through a non-recourse loan. The loan is made to the IRA, not to you personally. Thus, the lender can seize only the collateral (the property), not the funds held in the IRA itself. The loan is repaid through the IRA.
Using a non-recourse loan makes your IRA subject to UDFI (unrelated debt financing income), which is taxable. The UDFI is calculated using the percentage of debt financing needed to purchase the property and will be paid from the IRA. Read more about UDFI in the Entrust Learning Center or read IRS Publication 598.
Strategy 5: Investing Through an LLC
A limited liability company (LLC) is a distinct legal entity through which members receive liability protection, similar to that of a corporation. Your Self-Directed IRA can be the sole member or one of many members. It is the LLC that owns the property. Read more about LLCs.
Proportionate Interests Apply to Income, Expenses, and Profit
Regardless of which strategy you use, each partner owns an undivided interest in the property, proportionate to the investment made. For example, if you and your spouse partner your IRAs 50/50, you each have an equal share. If your IRA invested 40% and an outside investor invested 60%, you would have a 40/60 split.
The split applies to all income received, expenses incurred, and the ultimate sale and distribution of profits. Your IRA's share goes directly into or out of the IRA itself.
When it comes time to sell the property, your IRA participates in the profit in the same proportion as it has accrued income and paid for expenses. The profit will be tax-deferred (using a Traditional IRA) or tax-free (using a Roth IRA).
Here's an example, from purchase to sale: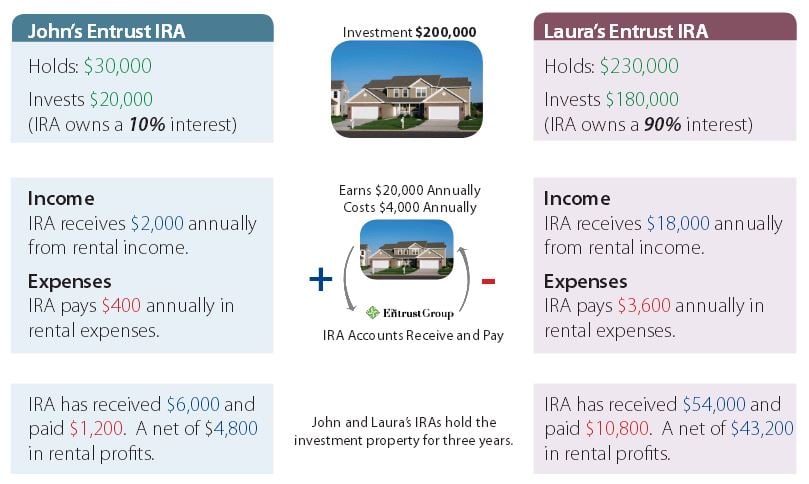 With the right strategy, anyone can invest in real estate. Check out our 2019 Key Trends in Real Estate for more info.