A Look at the Senate's Tax Reform Proposal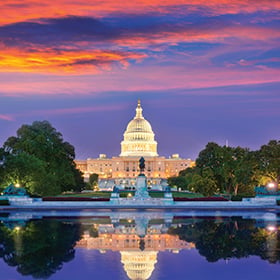 Estimated reading time: 3 minutes
Following up on our recent article on the proposed House Tax Cuts and Jobs Act, here's a look at the Senate Republicans' proposal, focusing on how it differs from the House version.
All of this is still being negotiated, and assuming both houses of Congress pass their respective bills, the two will go to a Conference Committee to be reconciled into a single piece of legislation. Check daily news sources for updates.

401(k) and IRA Retirement Savings Plans
Like the House bill, the Senate proposal keeps intact the current contribution limits and deductibility for 401(k)s and IRA plans. That means savers can stash up to $18,000 in their 401(k) plans ($24,000 if you're 50 or older) and as much as $5,500 in their IRAs ($6,500 for people age 50 and over). That makes this a good time to open and fund a Self-Directed IRA in time for the 2017 tax year, and to continue contributing on into the future.
Tax Brackets: Implications for Low, Middle, and High Earners
The Senate proposal keeps the current six brackets, but reduces the tax rate for the highest earners. The brackets are: 10%, 25%, 28%, 33%, 35%, and 38.5%. The highest bracket gives a 1.1% reduction to married taxpayers, people earning $1 million and single people earning $500,000.
High earners also benefit from proposed changes to the estate tax, which will apply only to estates valued at more than $11.2 million. However, the Senate proposal does not repeal the tax, as the House Republicans have proposed.
Lower income taxpayers would get a bump in the child tax credit. The Senate proposal raises the child tax credit to $1,650. That is fifty dollar more than the House proposal. More families also would qualify to take the child tax credit.
In terms of retirement saving, contributions to Traditional IRAs (up to the annual limit) will continue to reduce your taxable income. When it comes time to prepare your tax return, be sure to talk with your tax preparer about how making tax-free contribution to your IRA could affect your annual gross income, and therefore, your tax bracket.
Alternative Minimum Tax Eliminated
This tax, passed to ensure that all Americans pay at least some tax, is eliminated under the Senate proposal. The Alternative Minimum Tax now applies to the top 20% of earners—those who earn at least $149,000—and is most often paid by people in the top 1% of earners, or those who earn more than $732,000. Today, approximately five million middle-to-high earners pay this tax.
Standard Deductions
Both Republican proposals double the standard deductions to $12,000 for individuals and $24,000 for joint filers. Single parents will have a new $18,000 deduction (up from $9,300).
Fewer Opportunities for Itemized Deductions
Generally speaking, the Senate proposal does not take away as many itemized deductions. For example, student loan interest, medical expenses and charitable donations would still be deductible.
It also makes no change to the mortgage deduction, keeping the current $1 million limit.
Finally, one result of the higher standard deduction ($12,000 for individuals, $24,000 for families), is that fewer taxpayers are likely to itemize their deductions at all.
Deductibility of State and Local Taxes Limited
This is one of the biggest differences between the two proposals. The Senate Republicans eliminate completely taxpayers' ability to deduct any local and state income, property, and sales taxes they pay where they live.
"Pass-Through" Small Businesses May Benefit
Small business owners, such as a partnership, sole proprietorship, or S-corporation, would be able to pass through income at a 30% tax rate.
Our Proposal: Take Control of Your Own Retirement Savings with a Self-Directed IRA
You don't have to wait to find out how Congress decides to reform the tax system. We already know that incentives to save for retirement aren't changing. Why not cut to the chase and contribute to your IRA or other tax-advantaged retirement savings account today? Don't have an account? Open one today; it takes less than 10 minutes online.