African-Americans Have Less Retirement Savings, Study Says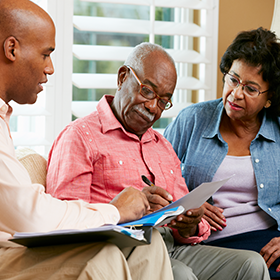 Estimated reading time: 2 minutes, 30 seconds
The contributions African-Americans have made to US history deserve to be honored every month of the year, not just during the "official" February Black History Month. African-Americans also need to plan for their financial future every month of the year. That includes a year-round commitment to saving for retirement.

Retirement savings is a long-term commitment that too many in the African-American community ignore. Indeed:
83% of African-Americans do not have enough put aside for retirement assets to last the remainder of their lifetimes.
Nearly 75% of African-Americans have less than $10,000 in retirement savings.
As startling as those numbers are, they may not be as surprising when you consider that the wealth gap between a typical white family and its Black counterpart was $131,000 in 2013, the most recent year federal data is available. In the years since, that gap is only likely to have increased. The roots of this gap are entwined in housing discrimination and wage disparity.
Economics can also combine with culture to create challenges to saving. When older generations live with younger family members, it can ease the cost for Black retirees and provide a solid family foundation for the younger generation. But it also can add financial stress for the younger family members, even to the point of making it harder for them to save for their own financial future.
Here are three things you can do to improve your retirement financial security:
If you employer offers a retirement plans such as a 401(k) plan, take full advantage of your employer's 401(k) plan. This is especially advantageous if the plan has an employer matching contribution. Far fewer African-Americans contribute than do white Americans. Contributing to a 401(k) means you lower your taxable income when you make the contribution. And when you contribute up to the employer match, you double your retirement savings.


Along with contributing to your employer's plan, open a Roth IRA

as well

. When you pair a Roth IRA with your 401(k) contributions, you get immediate tax savings with the 401(k) and save later when you get to take tax-free withdrawals from your Roth IRA.


Focus on saving, not spending. Of course, everyone needs to pay the routine expenses of daily life. But when it comes to little luxuries—that third pair of sneakers or high heels, your daily latte fix or even that weekly lottery ticket—consider saving that money instead of spending it. Little by little, it will add up. After all, having a secure retirement savings account is a better strategy than hoping you win the lottery.


If all of this sounds too complicated, here's a bonus tip: Talk with a financial planner or advisor. They are trained to work with people at every income level and at every stage in their savings plan. Many advisors offer a free consultation before you have to sign an agreement. It's an opportunity to get to know each other and how you might work together.
That free consultation goes for the trained professionals at The Entrust Group, too. Get in touch with us today to learn about how self-directed IRAs can help you plan for your retirement.