Don't Let Hidden Or High Fees Eat Into Your Retirement Savings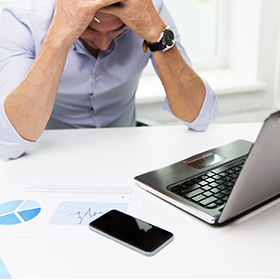 Estimated reading time: 3 minutes
What do most advertisements for cars, computers, and brokerage accounts have in common? More often than not, the cost shown in big print at the top of the ad is accompanied by a long list of extra fees and charges shown in teeny-tiny print at the bottom of the ad. Suddenly, the great deal doesn't look so great.
Back in the day when most employers offered defined benefit pension plans, the costs of saving for retirement were (mostly) borne by the employer. Now that 401(k) plans and IRAs are the way 77 million Americans are saving for retirement, that cost has shifted to the individual. And how much you pay to save for your retirement can vary. A lot.
In a recent article for the Huffington Post, columnist Dean Baker noted that the average annual fee paid on IRA balances is now 1%. And many people pay much more. Now, a 1% fee may not seem like much, but when you consider that Americans hold $8 trillion in their IRAs, that equals $8 billion in fees paid every year.
Short of stuffing your retirement savings under your mattress, you can't avoid fees completely. However, you can have great control over self-directed IRA fees, as well as over the choice of assets you invest in using your account.
How You're Charged for Asset Transactions Makes a Difference
For self-directed IRA owners, that ability to hold a greater variety of assets in their IRAs can translate into more transactions—buying and selling real estate, precious metals, or private placements—during the course of a year. You will pay a fee only when you make a transaction. How your IRA administrator charges for those transactions can cost or save you money. Transaction fees typically take one of three forms:
Value-based. The fee you pay is based on the value of the asset being bought or sold.
Flat fee. Fees are charged using a fee schedule, and are not related to the value of the asset.
No fee. Some administrators charge no fees for certain classes of assets. Entrust, for example, does not charge transaction fees for its Precious Metals IRA.
It's important to understand if you are an active real estate investor with your self-directed IRA, your value-based fees could add up quickly. Or, if gold is your preferred asset, looking for an administrator that waives transaction fees for those transactions could work to your benefit.
You also may pay check fees when, for example, your IRA administrator issues a check to pay earnest money after you have made an offer to buy a piece of real estate. As part of your due diligence in selecting an IRA administrator, find out what its check fees are.
Knowing All Applicable Fees Upfront Can Save You Time and Money
The time you invest in researching IRA administrators can pay off. Be sure to ask about all the other fees that you may be charged. The most common is the annual fee.
Sometimes call a custodial or service fee, every administrator charges an annual fee. This covers the administrator's costs of maintaining your account, reporting to the IRS and other services.
Other fees to investigate include asset expense fees and distribution fees.
Knowing Your Options May Save You Money
Every administrator is required to send account holders regular statements and documents regarding your investments.
It may take some searching and clicking, but scour the websites of the IRA administrators you are considering until you find their statement of fees. When you find it, be sure to read the fine print.
You can easily find and read The Entrust Group's fees. They are written in big print and are easy to calculate. We even provide an online tool to estimate your fees before you open an account with us.
Once you've done that bit of due diligence, it takes only 10 minutes to open an account with Entrust online.