Tick-Tock the Boss is on the Clock - Devising an Exit Strategy for Small Business Owners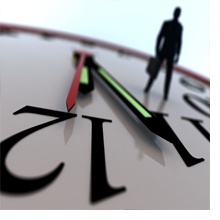 I am often asked by business owners about succession and exit planning. The harsh reality is that the landscape is littered with leaders and owners who chose – yes chose – to imperil their legacy and family's security. Some failed to change and sought refuge in denial and inertia. Others convinced themselves that they had changed or that everyone else needed to change. Regardless of the circumstances, this is the time to demonstrate change leadership by being visible and supportive while taking a step back in the planning and leading the implementation.
Set out below are four tips to help small business owners successfully move forward and simplify complexity.
No sugar-coating: Recognize the odds are NOT in your favor
Before diving right in, the business owner needs to be made aware of the ticking time bombs that lie ahead:
There will be many more business sellers than buyers in the coming years

Most family businesses rarely survive to the next generation

Many business owners have as much as 90% of their net worth tied up in their business

70% of business owners have no succession or exit plan
When considered together, the magnitude of the problem (opportunity) becomes abundantly clear, making succession planning the number one threat to closely held businesses. The ramifications to business owners, stakeholders and the economy as a whole are enormous. If succession was a disease, it would be moved to the top of the critical list. The situation is that bad. Those that fail to proactively plan ahead not only threaten their own and others' financial security but also leave a wide open playing field to those that heed this warning and take the steps necessary to capitalize on the opportunities ahead.
Like it or not, succession is what ultimately drives or stalls the business owner. Once this subject reaches the boss's radar then life as s/he knows it forever changes. For some, inertia sets in, while others facing the same circumstances thrive by embracing new paradigms. Ironically, each fully understands the stakes but differs in their willingness to be moved out of their comfort zone in order to accomplish the desired outcome.
Open Up
Many businesses today are too inward-focused, entrenched and lack the requisite clarity to identify and eliminate the obstacles to succession. Such inward-focus not only negates their own expertise and ability to create value and long-term financial security but also becomes toxic when mixed with succession and exit planning.
Outside Assessment
Developing a proactive approach that becomes the blueprint for succession is critical to success. An outside assessment is the first and most important element of the blueprint for success. The assessment puts the owner, the organization and the family in the fast lane to succeed. An assessment also sends the clear system-wide message that the boss is serious, pro-active and committed – meaning it is time for everyone to get onboard. An assessment sets the table for accomplishment, ultimately producing the highest return and best results.
Buyerizing the Business
Ultimately, business owners need to make the business ready for an orderly transition to their successor. This is best accomplished by:
Eliminating obstacles to desired outcome

Getting "house" in order

Unlocking hidden and misplaced value

Providing information and access

Offering the promise of a better future
​Conclusion
Be it from reviewing statistics or looking back on my own experiences, I can attest that most owners would rather not deal with succession and thereby have to acknowledge their own mortality. To family members and advisors alike, this can become an endless source of frustration. Whether fair or not, many fates are directly tied to the outcome of these weighty, complex issues.
It is my sincere hope that business owners realize that they are not alone and work to find the resources and expertise they need. Succession and exit planning are too important to be left to chance and fate. Invariably one either embraces the challenge of change thus cementing one's legacy or goes in the other direction. The winners will be the ones most determined to leave the party while still having fun. The choice is yours.
About David Carmell
David Carmell is the CEO and founder of CSuite Advantage. He is a recognized thought leader who has appeared in USA Today, Kiplinger's, Black MBA, Self-Employment King, Hanley Wood and RealEstate Business for his expertise on leadership, strategy, growth, family business and succession planning. For more information on Mr. Carmell and CSuite Advantage, visit
www.csuiteadvantage.com
.