5 Ways Small Business Owners Prepare for Retirement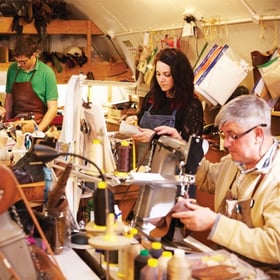 Have you heard the stereotypes? Women plan for the future; men are confident with their abilities. Younger generations take more risks; elders understand the reality of their financial situation. Self-employed business owners want freedom and control; employers of family-owned businesses plan to pass the torch on to their kids. Let's not pigeonhole ourselves, but stereotypes are there for a reason; they are the convention. So how does this apply to retirement planning?
As in the rest of life, age and gender affect how well prepared small business owners feel for retirement. Overall, 52% believe they are well-prepared for retirement, but in general men feel more confident (56%) than women (45%). However, females have been found to be more comfortable with admitting their concerns about preparedness than males, so this must be taken into consideration when reviewing the discrepancy. Seeking out education about retirement planning is the most beneficial way to develop this confidence.
Older business owners, who have been in business for more than 20 years, are more likely to say they don't want to retire at all. Those with a family business find retirement even less desirable (62%). On the verge of retirement, many instead prefer to cut back to only part-time hours, with more time to travel or spend with their families. Saving a substantial nest egg by the time they would normally retire helps them to do that. Those are some of the findings in Retirement Checkup: Small Business. Big Dreams, a 2014 report from Guardian Life.
Five Things You Can Do
On average, small business owners do at least four things to prepare for retirement. According to the Guardian Life study, they prefer to:
Set up IRAs, annuities, or other investment accounts
Invest in real estate
Work with a financial advisor
Read books or articles about saving for retirement
Save money through their company's retirement plan
Five Favored Income Sources
Most small business owners will rely on five different income sources during retirement. The top five are:
Social Security
Savings and investments in stocks, bonds, mutual funds, etc.
IRAs
Real estate investments (other than a primary residence)
Proceeds from the sale of the business
The Positive Impact of Planning
Two-thirds of small business owners say sticking to a well-defined financial plan has had a positive impact on their ability to save for retirement. More than one in four would like a better understanding of their options and would like to find a knowledgeable financial advisor or retirement plan administrator. Those who already work with a financial professional to craft those plans look for advisors who have integrity, are trustworthy, knowledgeable, experienced, and who listen to their needs.
One Thing To Get You Started
If you haven't started planning for retirement, here's one simple step to get started: download The Entrust Group's report, Control Your Retirement Savings the Easy, Affordable Way: Tax-Advantaged Plans for Small Business Owners, for an introduction to the tax advantages of employer-sponsored retirement plans.