Protect Your Future with Green Investments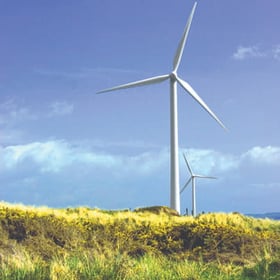 You recycle. You carry your own reusable bag to the grocery store. You turn out the lights when you leave the room.
But have you "gone green" in your IRA?
According to a 2014 report by the US Forum for Sustainable and Responsible Investment, SRI assets—sustainable and responsible investments—now account for more than one out of every six dollars under professional management in the United States.
A self-directed IRA makes it easy to invest in environmentally friendly assets, from companies pursuing renewable energy to real estate to certain tax-exempt bonds. You benefit from tax-free appreciation, while we all benefit from cleaner water and air, a greener planet, and a more equitable world.
Green Investments
With a Green IRA from The Entrust Group, you can invest in companies developing:
Green real estate: development properties designed to have little impact on the environment or land used by small farmers

Alternative energy: solar, wind, clean coal, nuclear, and natural gas, as well as biofuels and waste-to-energy initiatives
Clean transportation: rechargeable auto batteries and other innovations
Green bonds: tax-exempt bonds, backed by local, state, or federal governments, to raise capital to clean up polluted sites
Getting in on the Ground Floor
Many Earth-friendly breakthrough developments have come from small companies, the very enterprises that often have a hard time getting financing from traditional sources. Using a self-directed IRA, qualified individuals can invest in private placements, such as private stock, unsecured notes, crowdfunding, and LLCs (limited liability companies) and LPs (limited partnerships) working on the next generation of products and services designed to protect the planet.
Protect the Earth and Your Financial Future
Bring in the green for your retirement by diversifying with SRI assets in a Green IRA. You're not only investing in your financial future; you're investing in the protection of our ecosystem.
Of course, just because a business is environmentally conscious doesn't guarantee its managers are conscientious. These are business decisions that should be made only after doing due diligence to mitigate risk and improve your odds of getting a good return. Why not learn more about how to vet green investments and celebrate Earth Day this month with our free report about What Due Diligence Is, Why It Matters, And How To Do It Well.