Real Estate Lending and Construction Investments; Why is This Right for Me?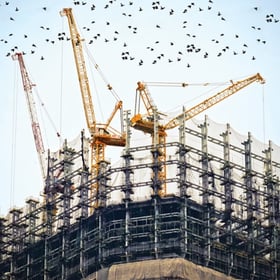 Real Estate investing has always been a proven way to deploy finances into a long term strategy that creates more security than traditional stock and other market investments. Investing your hard earned money into construction and development projects, backed by national retailers; also gives another layer of security and confidence. This is a strategy that is proving to be both successful and stable as the U.S. economy continues its regrowth and businesses are putting people back to work.
We have found that Real Estate and Construction Lending remains to be a major factor in today's economic upswing. As of May 2014, according to the AIA (American Institute of Architects) spending on office buildings was up almost 19 percent, while the red-hot hotel market was up another 11 percent. The AIA's Construction Consensus Forecast panel sees a strong year this year for the commercial sector, with 9.9 percent growth in construction spending, followed by another year in excess of 11 percent. Both the office and hotel markets are projected to see combined 2014 and 2015 growth rates exceed 25 percent. The market is ripe in a variety of asset classes displaying multiple exit strategies.
In today's contrasting market where real estate is once again a market leader, while yield is going down as the bidders continue to make all time high offers. Once assets can be purchased significantly over replacement value it's time to create the value vs. buying it. That is where we like construction lending and underwriting deals on a land residual basis while creating an additional layer of yield on the capital stack.
What are the risks of being in this space?
The risks are what we perceive to be value-adds as there are not many who can perform within this space. Construction risks can be scary and the market does not like half built assets. However, when working with a company that can price a deal right and build in enough of a cushion into the underwriting, the construction component is a controllable one and the additional yield created far outweighs that risk.
In the past year, we've seen the highest value add created within hospitality, Gas Station C Stores, land entitlements for residential sub divisions and internal retail franchise sale leaseback real estate structures. We like this space due to the liquidity in the market place allowing each one to reach their exit strategy, and we think this is an excellent way to add an extra layer of security to a self-directed investment.
What are the value adds we're referring to?
Creating National Brand franchising agreements and bundling them into deals greatly increases the velocity for yield. For Example, it's no secret that franchising continues to play a significant role in the U.S. economy and in many cases can be directly connected to its growth. Franchise revenues are expected to increase 5.4% to $889 billion (an increase of $45 billion) in 2015, and direct jobs in franchise establishments will increase to 8.89 million (an increase of 247,000), with Food & Hospitality accounting for 65% of the growth, according to IHS Global Insight.
Why is using a self-directed IRA with The Entrust Group a great choice for successful Real Estate investments?
Most people today look for the best way to manage their hard-earned retirement savings. There are many vehicles to choose for your retirement account such as; Traditional IRA's, CD's, Bonds, Savings Accounts, 401(k), 403(b), 457, Profit Sharing, Defined Benefit ESOPs, and many more. With those, most people have historically chosen investments in stocks, bonds, mutual funds, precious metals, and the exchange trade funds to ramp up their savings. If you, like many others, recently watched your individual retirement account or 401(k) drop by double digits, you may be asking yourself, "Is there a smarter way to put away money in an uncertain economy?"
Did you know that you can replace some of your investments with tax-deferred holdings not tied to the ups and downs on Wall Street? Seems impossible, doesn't it? If you want to get the best options for your retirement savings, a self-directed IRA is the perfect place as it provides you the choice of ways to invest. The self-directed IRA allows investors to take the lead on different types of diverse investments that include real estate backed assets.
About First Capital Real Estate:
First Capital Real Estate Fund, headquartered in Gold River, CA, is focused on bringing new jobs and revenue to the local economy. First Capital Real Estate has completed over $100 million in projects during the past 12 months. The company focuses on multiple real estate asset types and seeks value add positioning opportunities in the marketplace. It has acted as a principal debt and equity advisor, co-sponsor and principal developer and is well respected in the marketplace. The firm was established in 2003 and First Capital Real Estate has completed more than $250 million in acquisitions, developments and construction projects.