Retirement Checklist: 3 Ways to Plan and Save for Your Dream Retirement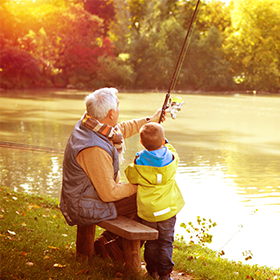 Estimated reading time: 3 minutes 10 seconds
Most New Year resolutions are short-term: get more exercise, eat a healthier diet, and spend more time with family and friends. This year, try something different by making a longer-term resolution to plan and save for your dream retirement. If you break it down into small steps—some of which you can get started on right away—your resolution will pay off for many years to come. Here are some ideas and questions to get you started:
Step 1: Envision
What does your dream retirement look like? Everyone has a different answer to that question. Your response may even be different than your spouse's. Start preparing for retirement by imagining how you'll fill your days after retirement. Do you want to travel, spend more time with family, or maybe you'll be traveling to spend time with family? Are you looking forward to pursuing a favorite hobby or learning a new skill? You may even want to work part-time doing something you are passionate about.
Step 2: Plan
Once you have a picture of your dream retirement, it's time to think about what you need to do now to make that dream a reality. This is the perfect time to talk to a financial professional to help you strategize a customized plan. A retirement calculator can also be a useful tool to estimate what you will need. Here are some of the questions you'll want to ask yourself:
What monthly income will I need during retirement?
Where will that income come from?
How much Social Security income will I have?
Will I have distributions from a 401(k) or pension plan?
Do I have other income sources?
How much debt do I project to carry during retirement?
Do I have plans on how to cover health care expenses during retirement?
What specific expenses may be related to my dream retirement?
You will also need to think about your existing retirement savings and how to maximize these over time:
Should I be saving in a Roth versus a Traditional IRA?
Am I contributing enough to my IRA?
Is my portfolio diversified? What investment options do I have?
Where do I anticipate my income will come from?
Am I anticipating an inheritance?
Do I plan on working during retirement and if so how much?
Are my investments appropriate for the stage in life I'm in?
Am I receiving proper guidance from my current advisors?
How can I make potential higher returns?
What have I learned from past investing?
How did other successful people attain their goals?
If you are an entrepreneur: what additional savings vehicles are available?
If you have a spouse: will my retirement savings be enough for the both of us?
Where will I retire to lower my expenses during retirement?
Step 3: Execute
Once you've created your plan, it's important to stick with it. Develop a plan on how to track your progress. Make sure to determine where the money will come from to put towards your savings, invest wisely and get advisors to guide you along the way, and with proper guidance adjust your investment strategies and asset choices when necessary. You may even need to update your plan if your circumstances change. And once you retire, you'll want to keep an eye on expenses and income to ensure a long, happy retirement. Some individuals are living longer and spending more time in retirement compared to their working years.
Now that you have envisioned, strategized, and created a plan for your dream retirement, it is time to execute it!
Retirement is all about pursuing lifelong passions and turning dreams into reality. Making the right investment can be a very rewarding part of that process. If you are ready to learn more about how a self-directed IRA can help you achieve your dream retirement, take advantage of our free consultation here.