Guide: Retirement Planning for Dad This Father's Day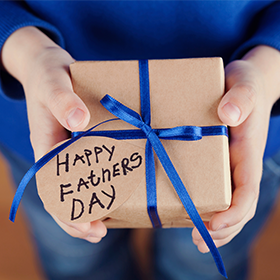 Estimated reading time: 2 minutes 50 seconds
You're well past the age when an IOU for 50 hugs or a weekend of yard work is a cute Father's Day gift. And how many "greatest dad" mugs can one man use? This article suggests a gift that your dad will appreciate long after the Father's Day helium balloons on sale at the supermarket have deflated: helping him plan for the future, for an easier retirement.
As a member of the Baby Boom generation, your dad is getting closer to retirement age. In fact, a Baby Boomer turns 50 every eight seconds or so. And while 50 is not exactly on the threshold of retirement, that's all the more reason for him—and you—to start thinking about how much he has put away for retirement. The sooner he starts saving, the more comfortable his retirement is likely to be.
A surprising number of Americans have little or nothing saved for retirement. According to a recent Motley Fool article, Americans in their 50s have saved an average of $117,000 for retirement. True, he may have a 401(k) from his employer. And there's always Social Security, but people are living longer. In 2016 the average age of death is 81, or 14 years after the standard retirement age of 67. That means their retirement assets will have to stretch farther.
No Minimum Deposit When You Open a Self-Directed IRA with Entrust
A self-directed IRA puts the accountholder in control of the type of assets invested in the account. That means your dad can invest not just in stocks, bonds, and mutual funds, but in assets such real estate and precious metals.
But don't worry—there is no minimum opening balance when he decides to open a self-directed at The Entrust Group—even with a modest deposit.
Two Types of IRAs to Choose Between
When he's ready to invest, he will want to think about the type of IRA that fits his needs best. Here are some of the differences between them:
Traditional IRA Roth IRA
| | |
| --- | --- |
| Contributions may be tax-deductible when made | Contributions made on an after-tax basis; no deduction given |
| Withdrawals are taxed as ordinary income | Withdrawals of earning may be tax-free once certain criteria are met |
| Contribution limits set annually by IRS | Contribution limits set annually by IRS |
| Accountholder must take required minimum distributions starting the year after you reach age 70 ½ | No required minimum distributions |
The type of IRA that will best suit your dad depends on his circumstances. Here are some questions he should think about:
When does he plan to retire? At what age?
Does he participate in a pension or 401(k) plan at work?
Does he already have an IRA? If so, is it a Roth or a Traditional IRA?
One More Important Conversation
The conversation you have with your dad about his retirement plans can be a gift all by itself, but there's one more important conversation to have: encouraging your dad to open a self-directed IRA. It can be one of the best ways to care for him this Father's Day, so you can help him prepare for the road ahead.