Tax Tips for Self-Directed IRA Holders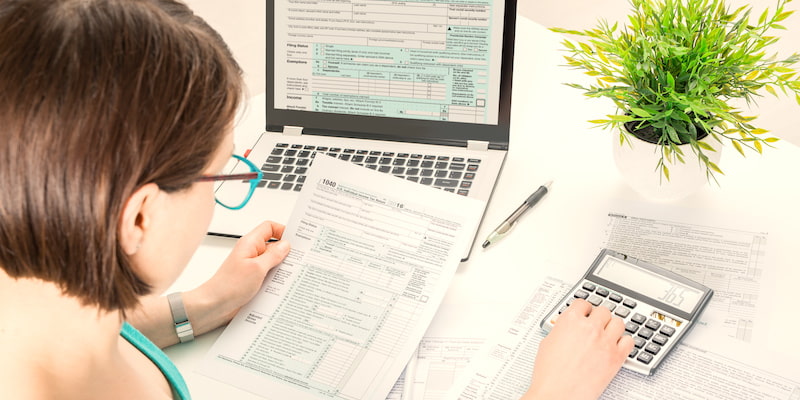 Estimated Reading Time: 5 minutes
Tax day is quickly approaching, and this year it is April 18th, 2023. While this season can be a daunting time as you're preparing to file your tax returns, we're here to make it a little bit easier.
Check out this list of things every self-directed IRA (SDIRA) holder needs to remember when filing taxes, and conquer tax time like an SDIRA investing champ.
FMV and Contribution Reporting
The tax process gets started when you provide your custodian with a Fair Market Value (FMV) for your account. If you are not sure what that is, you can read about it and how to complete an FMV for your SDIRA in our recent article.
Your custodian then submits an IRS Form 5498 to the IRS on May 31st following the tax year. This form informs the IRS of your IRA's value as of December 31st based on your FMV.
Your custodian will also file the IRS Form 5498 to report the contributions that you made to your IRA for the tax year. Your custodian should send you a copy of these forms for your records, but you do not have to file or do anything with these forms.
Reporting Rollovers
If you have taken a distribution in the previous tax year and you want to roll it over into the same IRA or another IRA, then you will want to be sure that you are reporting rollovers correctly.
Here is the process. On January 31st of the tax year following the distribution, the financial institution from which a distribution has been taken will issue an IRS Form 1099-R. This form will show a taxable distribution. If you decide to rollover in the following tax year the amount distributed in the previous tax year, you will need to reconcile this in order to avoid taxation. You can report your rollover on line 4b of IRS Form 1040 following these guidelines.
On line 4a of your tax return, include all distributions taken from any retirement plan.
On line 4b enter any portion of any amounts distributed. If the amount was rolled over, however, the IRS instructions state to write in "Rollover" in line 4b of IRS Form 1040.
In an event that is tax-free such as a Qualified HSA Funding distribution or a Qualified Charitable Distribution, the IRS states to follow the same route as the rollover, but instead of writing in "Rollover" in line 4b, write in the acronym of the reason such as QHFD for Qualified HSA Funding Distribution or QCD for Qualified Charitable Distribution.
If there is more than one reason associated with multiple distributions, the IRS instructions require that you attach a statement of explanation. Use

IRS Form 8275

in for the statement of explanation.
Missed Required Minimum Distributions
If you have a traditional IRA and you are over age 72, you probably already know that your account is subject to Required Minimum Distributions (RMDs). The penalties for not distributing the required amount each year are steep and can be an excess accumulation penalty of 50% of the amount that was not distributed.
If there is a reasonable reason why you did not take your RMD, you can always ask for a waiver of this penalty. It is in your best interest to take reasonable steps to correct the mistake by distributing the RMD first and then ask for the waiver using IRS Form 5329. You can complete Part IX on the form with an attached letter of explanation.
Investments with Unrelated Business Income
If your SDIRA has an investment that generated trade or business income in gross receipts of $1,000 or more during the tax year, this is called Unrelated Business Income (UBIT). In order to report UBIT, your IRA will need to file IRS Form 990-T.
Because your SDIRA is a separate entity from you, you will need to file IRS Form 990-T separately from your personal tax filing. You will also need to obtain an EIN for the IRA in order to file this form. This filing is due on the tax filing deadline in April of each year. Remember that you cannot use any of your personal funds to pay the taxes because all expenses and income must come from the SDIRA.
SDIRAs Investing Through an LLC
If your SDIRA owns an LLC and invests through it, you need to be aware of special tax considerations. If you have a single-member LLC, then the SDIRA most likely will not need to file a tax return unless your SDIRA's income is subject to UBIT as we addressed in the paragraph above.
If, however, your SDIRA is in a partnership or a multi-member LLC, you or your partnership may need to file an IRS Form 1065 Partnership Tax Return. You will want to consult with your tax professional or financial advisor in order to decide what the best course of action is for your situation.
Individual 401(k) Forms
If you have an individual 401(k) that accumulated more than $250,000 in assets during the tax year, then you will need to file IRS Form 5500-EZ.
Paying Taxes with an SDIRA
Remember that as with any investment or transaction with an SDIRA, you cannot commingle your personal funds with the SDIRAs funds. You will need to be sure that all taxes owed by the SDIRA are paid by the SDIRA. If your SDIRA invests through an LLC, when paying taxes be sure to use the IRA or LLC's EIN for the filing rather than your SDIRA custodian's EIN.
Since having tax-advantaged retirement accounts is a priority for you, it is important to manage the tax process well in order to make sure you are preserving the tax-advantaged status of your accounts. If you have any questions, consult with a tax or financial professional to make sure your taxes are prepared correctly in light of your overall investment strategy.
While you are thinking about your tax-advantaged accounts during tax season, remember that if you are an Entrust client, you can refer friends you think might also benefit from having an SDIRA as a part of their retirement strategy. With our client referral program, you can save on your recordkeeping fees and your friends can save on their account establishment fees. It's a win-win.