Where Do You Fit? Retirement Savings Characteristics Through a Generational Lens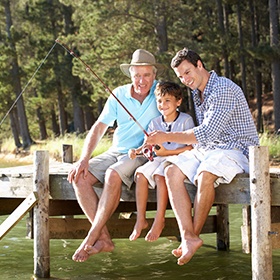 Estimated reading time: 4 minutes
Three generations of Americans are now in the workforce, and should be saving for retirement. And, just as each generation has its own approach to life and work, each has a different take on retirement saving.
Here are some insights to those differences, and some suggestions on how to improve your retirement savings plans, no matter what generation you're in. They are drawn from the Transamerica Center for Retirement Studies® 2017 annual retirement survey, conducted by Harris Poll. The pollsters surveyed 1,353 millennial workers, 1,232 Generation X workers, and 1,462 Baby Boomers still in the workforce.
Baby Boomers (born 1946 – 1964)
The survey calls this group the "trailblazers of the new retirement." This is the first generation to have the option of saving for retirement using defined contribution plans like 401(k)s and 403(b)s, and IRAs, As a result, more than one in four (78%) are looking to their defined contribution and individual retirement savings accounts to be their primary source of income. Only one-third expect a traditional defined benefit pension to be their primary source of retirement income. Slightly more than one third (34%) expect to rely primarily on Social Security.
Yet, for all their bravado about the source of their retirement income, the median amount saved by Baby Boomers households in retirement accounts is a mere $147,000.
Another way this group is putting its own stamp in retirement is by not retiring. Two out of three Baby Boomers (66%) plan to work beyond the traditional retirement age, full or part time.
Tips for Baby Boomers:
It's never too late to start saving. Enroll in your employer's 401(k) plan, or if you work for a small business or are self-employed, ask about the IRA savings vehicles specifically designed for those sectors. Read more about self-directed plans for individuals and small businesses.
Once you've opened your IRA, take advantage of the catch-up provisions that allow savers older than age 50 to contribute extra to their tax-advantaged retirement accounts.
Keep your job skills up to date so you remain relevant if you want to continue working.
Generation X (born 1965 – 1978)
These "struggling retirement savers," as the survey describes them, are at that point in their lives where paying for their children's educations and a mortgage often take precedence over saving for retirement. Forty percent of survey respondents agreed with the statement "I prefer not to think about or concern myself with retirement investing until I get closer to retirement date."
As the first generation to have 401(k)s available throughout their entire working careers, they started saving early, on average at age 28. An impressive 77% are saving for retirement, contributing a median 7% to their employer-sponsored plans. However, 30% of them have taken a loan out against their retirement accounts, leaving the group with median retirement savings of $69,000.
Tips for Gen Xers
Do your homework to understand how much you will need to retire by calculating your retirement income needs. (According to the survey more than half (52%) of respondents said they "guessed" at their retirement income needs when planning how much to contribute.
Once you know your income needs, create a retirement savings plan and write it down.
Take full advantage of employer-sponsored plans and open your own self-directed IRA to choose for yourself the assets you want to invest in for retirement.
Millennials (born 1979 – 2000)
Called the "digital DIY generation" in the Transamerica survey, millennials are a self-reliant group. A mere 17% expect Social Security to be there for their retirement years, so it's no surprise that 55% cite self-funded accounts as their primary source of retirement income.
They also got a head start on saving: 72% were already saving, beginning at the tender age of 22 (median). Most (72%) contribute a median 7% to their 401(k)s, with 30% contributing 10% or more. At this early point in their careers, the median balance in their household retirement account is $31,000.
While they are hungry for education and information about investments, and how to do it themselves, a quarter of them admit they aren't sure how their 401(k) accounts are invested. And those who do know have opted for the relative security of bonds, money market funds, and stable equities.
Tips for MIllennials
Consider retirement benefits as part of total compensation when you're looking for your next job. Ask about the availability of a defined contribution plan and how much the employer matches.
Learn more about investing for retirement. Professional financial advisers and retirement consultants can help educate you so you know the right questions to ask and can make more informed decisions.
Start making more of your own investment decisions, whether that means understanding how your employer-sponsored plan is invested or opening up a self-directed IRA where you make the investment decisions.
Conclusion
The most important message here applies to all generations: Take control of your retirement future—no matter how near or far away that is—by saving today.
That can start with opening a self-directed IRA online with The Entrust Group. It's easy to do online in 10 minutes.