10 Presidents Day Quotes for the Savvy Investor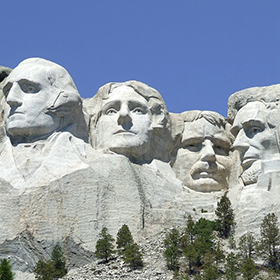 Estimated reading time: 1 minute 40 seconds
Presidents Day is coming up on Feburary 17. Did you know this day originally falls on George Washington's birthday? In honor of this great American holiday, we became inspired to research timeless quotes uttered by some of the greatest American presidents. Here are some finance-inspired quotes from the great men themselves:
"Worry is the interest paid by those who borrow trouble."
- George Washington
"If a free society cannot help the many who are poor, it cannot save the few who are rich."
- John F. Kennedy
"Wealth can only be accumulated by the earning of the industry and the savings of frugality."
-John Tyler
"Beware of little expenses: a small leak will sink a great ship."
-Benjamin Franklin
"Labor is prior to, and independent of, capital. Capital is only the fruit of labor, and could never have existed if labor had not first existed. Labor is the superior of capital, and deserves much the higher consideration."
-Abraham Lincoln
"In today's knowledge-based economy, what you earn depends on what you learn. Jobs in the information technology sector, for example, pay 85 percent more than the private sector average."
-Bill Clinton
"If a man empties his purse into his head, no one can take it from him. An investment in knowledge always pays the highest return."
-Benjamin Franklin
"Our resources may be finite, but our will is infinite, and I am confident that if we come together and summon that great American spirit once again, we will meet the challenges of our time and write the next great chapter in our American story."

-Barack Obama
"We must open the doors of opportunity. But we must also equip our people to walk through those doors."
-Lyndon B. Johnson
"Never spend your money before you've earned it."
-Thomas Jefferson
We hope this list of quotes has inpired your inner investor to make smarter choices when it comes to finance. To further educate yourself about smarter invements and finance, please visit our Entrust Learning Center by clicking on the banner below.