4 Spending Lessons to Follow This Holiday Season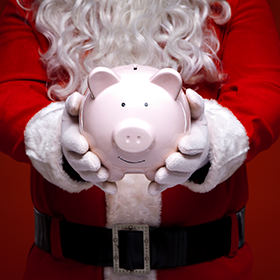 Estimated reading time: 2 minutes 20 seconds
Are you one of those parents (or grandparents, aunts, uncles) who will spend more that you should on your children over the holidays? You won' be alone. A majority of 62% of parents surveyed by T.Rowe Price for its 2015 Parents, Kids & Money study said they expected to do just that.
Where will that money come from? More than half (56%) will tap their current savings and checking accounts to pay for the holidays. Nearly half (47%) will pull out their credit cards when they shop. Smaller percentages will even go so far as using cash set aside or emergencies (9%) or will dip into their 401(k)s or IRAs (7%).
While its natural to splurge at the holidays, it shouldn't come at the expense of longer-term savings goals like retirement or education. Here are four lessons that can help you save and splurge:
Lesson #1 - Have a plan
Go into the holiday season with a plan. It's still not too late to make a holiday spending budget. In addition to gifts, be sure to include items like decorations, the cost of travel, the expense of parties you will give. And while you want to account for the inevitable last-minute expenses, don't give into impulsive purchases that aren't in the budget.
Lesson #2 - Avoid the plastic
Avoid credit cards and don't dip into your savings accounts. Leave the credit cards at home and pay in cash whenever you can. This gives you a much better idea of exactly how much you are spending.
Lesson #3 - Divert those holiday ads
Don't give into holiday advertisements, sales, and coupons. Advertisers know that shoppers' defenses are weak this time of year. Don't play into their hands and let them pressure you into "buy one, get the other half-off" schemes. Decide how much you can spend for everyone on your list, and stick to it.
Lesson #4 - Stay disciplined
Holiday joy doesn't come from overspending. It's hard not to get caught up in the warm feeling of giving to people you love, but don't let joy overcome discipline. There is a difference between being disciplined and being a Scrooge. You might even give yourself the gift of setting up a savings account for the 2016 holiday season.
If you take these four lessons to heart, you will experience the most important lesson of all: How good it feels to enjoy a holiday free from the guilt or worry that comes when you overspend. Being financially conscious during the holiday season is a great way to stay on top of your spending, as well as plan for the future. An additional step includes is talking with the trained finance professional. Contact us today for a FREE consultation to learn more about self-directed IRAs and how they can be beneficial to you.