4 Tips to Help You Sail Through Tax Season 2016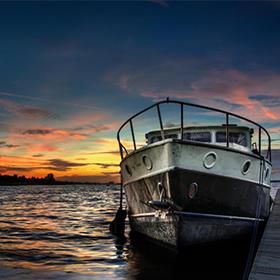 Reading duration: 2 minutes 30 seconds
It's almost tax time, and you need to figure out what to ask your financial planner. Planning for the upcoming tax season can get a bit stressful, so we compiled a few tips to help you make this process much easier, kind of like a smoother sail on the rough waters of tax season! The questions you have will depend on various factors:
1. Skip the middle man if you have a simple tax return
In a blog post from the Financial Planning Association, Francis St. Onge, CFP®, states that the first variable you must figure out is whether or not you can prepare your own tax return.
The financial planning expert notes that doing things on your own may be a good move in the event that you have a simple return - for example, one that contains a W-2, a claim for the standard deduction, and also some interest income.
2. If your story is a bit more complex, think about hiring a tax professional
If your situation is more complex, St. Onge notes that you may benefit from working with a professional to prepare your tax return. He adds that the IRS has made many changes recently affecting tax preparation, and only specific types of professionals can do this for you.
Under current law, a tax preparer is only considered legitimate when associated with a Preparer Tax Identification Number (PTIN).
In addition, professionals are required to complete a test of basic competency, obtain a license, and also take continuing education courses.
If you are considering working with someone, asking for a PTIN and a license will help you to verify that they have fulfilled these basic requirements.
3. Choose a tax professional with experience in the alternative assets you own:
It's a good idea to pick a tax professional who has experience in estate planning if you tend to invest in real estate alot more. This way the professional you choose is well-aware of industry guidlines when working with the IRS. If you're looking for financial help, the Certified Financial Planner Board of Standards, Inc., suggests in its document "10 Questions to Ask When Choosing A Financial Planner" that you should make an effort to work with a professional who has concentrated experience in these key areas:
Tax planning
Insurance
Retirement planning
Investments
Estate planning
4. A qualified tax professional is always a healthy choice
Sure it's easy to contact your brother's-business partner's-accountant to help you with your taxes, but often times the qualifiactions are overlooked when you ask someone you know to do your taxes, rather than hiring help. If you are considering working with a financial planner, you should determine his qualifications by checking:
Is he a Certified Financial Planner (CFP)?
Is he a Certified Public Accountant (CPA)?
Is he staying on top of all the changes happening in the world of finance?
Who else will be involved in the process? Tax specialists? Attorneys?
One benefit of having a CPA is that one of these professionals has the ability to represent before the IRS and the state tax authorities.
One way you can make progress in finding a tax preparer is to be connected with a network of professionals that can educate you about available investing options. To be connected with such a group, please contact us.