Employee Spotlight: Cecilia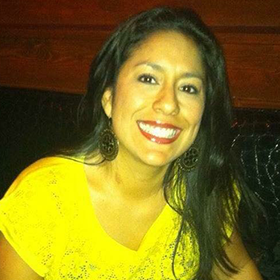 Estimated reading time: 2 minutes
Meet Cecilia, she's an Alternative Assets Associate who has been at The Entrust Group for over one year. Congrats on your one year anniversary! Cece (short for Cecilia) was originally b

orn in Lima, Peru and came to California at the age of 2. She

hasn't been back to her home country ever since, though she would love to visit again.

Cece enjoys working at Entrust because she has a chance to get to know everyone on a personal level, since we're a small company. She also enjoys the discounted gym membership and simple work hours that come with her employment. The perks of working at Entrust!
When asked about her special skills, she mentioned how she's a quick learner. On a personal level, she enjoys cooking and putting together tasty dishes. When she was younger, she grew up cooking just by memory of taste. Her favorite cuisines include Peruvian and Mexican. One of her

all-time favorite things to do is watch her favorite shows on TV,

but it's getting harder for her to just sit there and do that with a 3-year-old running around! We know those toddlers can keep a mom busy.
When asked what is the most common question she come across at Entrust? It's usually "w
hat did you have for
dinner?" or "what are you having for lunch?" Sounds like a normal day of water cooler talk!
While working at Entrust, Cece
learned that a spouse, children, and parents are considered
"disqualified persons" and it would be best if investors had another
person manage real estate investments, instead of a close family member. You'll learn a lot of investment facts working here at Entrust.
A fun fact about her: "
Most of my best friends are from childhood. We went to school
together, bought houses near each other and now our children are growing up together.
I truly love being a mother, even though I d
idn't think
I would when I
was younger. I
t's a different kind of love
I never expected to feel."
We enjoy having Cece at Entrust because she brings a positive and sociable energy to the company and her colleagues agree that its always a delight to work with her. That's why Cece is a part of our August Employee Spotlight!
To learn more about The Entrust Group and it's employees, please visit our team page here.