Employee Spotlight: Jacob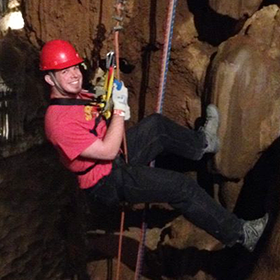 Estimated reading time: 2 minutes
Our employee spotlight features Jacob for the month of July! Jacob, also known as Jake works as a Client Services Associate. He started at Entrust as an Administrative Assistant about 8 months and was recently promoted to the Client Services department 3 months ago. Jake thinks the best thing about Entrust is the great corporate culture. "I'd never had an office job before working for Entrust, and I'll admit I was a little worried about being stuck in a miserable and frustrating environment. I'm happy that those fears turned out to be absolutely groundless! Everybody I've worked with has been approachable, competent, dedicated and fun," explained Jake.
We quizzed Jacob's IRA knowledge, and he told us that a transfer of funds from one IRA to another is NOT the same thing as a rollover. They are completely separate transactions requiring different paperwork, even though in practice they seem like they accomplish the same thing much of the time. Thanks for the tid-bit Jake.
When asked about what special skills he holds, he listed a bunch! Jake can speak fluent Italian, recite the Ludacris rap from "Yeah!" by Usher from memory, does a good job making friends with cats, and has been known to crank out the occasional cheesy poem when the muse comes upon him. Of course we're always curious about our employee's favorite foods. Jacob said he's tempted to stay true to his heritage and say Italian food is his favorite, but honestly his heart (and stomach) belong to sushi. He could eat his weight in Unagi Maki and Tuna Sashimi.
His additional hobbies include being an avid table-top and video gaming enthusiast, as well as a voracious reader, mostly of fiction and satire. He also likes to go hiking on occasion. Beautiful mountain scenery makes him euphoric. Of course that might just be the lack of oxygen! Jake is originally from a tiny farm town in the Central Valley of California that he guarantees you've never heard of. He grew up in his grandparents' almond orchard and transferred out to the Bay Area to go to school when he was 18. Although California has been his home his entire life, he'd like to spend a year or two someplace else just to have the experience. His heart is here! In closing, Jacob will do most things at least once if there's a reasonable chance of him surviving and getting to tell the story later.
Jacob brings a lot of enthusiasm and energy to Entrust with his funny wit, and outspoken personality. He does great with the clients and makes an extra effort to treat all clients with the ultimate respect they deserve. This is why Jake deserves this month's Employee Spotlight! Thanks for all your hard work Jake!
To learn more about Entrust and its available resources, visit our Learning Center by clicking the image below.