Entrust Employee Spotlight: Wendy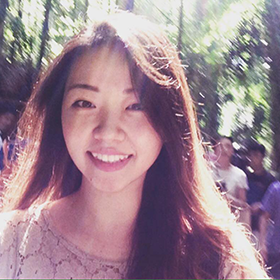 Estimated reading time: 1 minute 30 seconds
Meet Wendy, she's the Marketing Administrative Assistant at The Entrust Group and has been working with the company for 3 months. Although, she's a newbie, she's done a great job blending into our company and its culture.
When asked what she likes about the company, she says that the staff is really welcoming, friendly, and most importantly, there are so many foodies in the office! Above all, she says that her marketing team is amazing. She enjoys the creative energy, playful banter, and the endless talks about food. "These talks all contribute to a collaborative and conducive team environment", says Wendy.
On her free time, she loves golfing with the family, traveling, exploring new eateries, discovering new music, watching cooking shows, and Pixar films are her absolute favorite. Although Wendy loves all types of food, she particularly loves Japanese food including: uni (sea urchin), amaebi (sweet shrimp), salmon, and blue fin tuna. Not just the raw stuff, but she also loves ramen, hamachi kama (broiled yellowtail collar), yakitori, and Japanese style breakfast omelets.
Wendy is originally from the Bay Area, but her roots are from China and Korea. She loves the California weather and living 20 minutes from the beach is one of the great perks she enjoys. Also, she loves the many great places to eat!! One of Wendy's favorite restaurants is a Puerto Rican restaurant called Sol Food in San Rafael.
A few fun facts about Wendy:
She is an ice cream connoisseur
She spent 2 years teaching English in Korea, and has been to 17 countries
She loves to camp and hike
We enjoy having Wendy at Entrust because she brings a fun and bubbly energy to the company. Her team members all agree that she has a go-getter personality who gets stuff done! Entrust is lucky to have her, and that's why Wendy is a part of our October Employee Spotlight!
To learn more about The Entrust Group and it's employees, please visit our team page here.