Entrust Employee Spotlight: Kelsey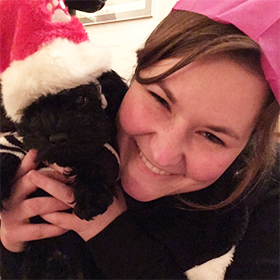 Meet Kelsey, she is an Account Coordinator at The Entrust Group and has been with the company for 8 months. She originally started off as an Administrative Assistant, and was promoted to her current position, directly supporting Patrick, our Business Development Manager in Missouri. What she enjoys most about working for the company includes the people, and opportunities to learn new things. She loves working in a place with pleasant and kind coworkers, and at a place she can learn. The most common question she comes across at Entrust is "What is a self-directed IRA?" We're sure that's an easy question for Kelsey to answer! Prior to Entrust, she had no background experience in the industry, but she's learning more and more everyday and understands the importance of retirement savings!
Reading is Kelsey's favorite way to relax, and her special skills include reading 750-800 words per minute! Reading while she's eating a grilled cheese (her absolutely favorite food). She says she's the best at making grilled cheese too. It's her secret!
"Life is dark, so I like to be silly and fun whenever I have the energy, whatever that means in the moment. I love learning new things and talking about them, enjoying nature, reading, and working on creative projects of all sorts, but I especially love spending time with friends, family, and my fluffy little dog, Henry." - Kelsey
Kelsey originally grew up in the East Bay (Martinez/Pleasant Hill)—left for college, but couldn't stay away. She went to Hampshire College in Amherst, MA—but she said it was way too cold! Now she's back in California, and she loves the weather and the people from her home state.
Fun facts about her: Almost all of her extended family lives in Wisconsin, she has a really long tongue, and only ever lost 7 teeth naturally!
Thank you Kelsey for taking part in our Entrust Employee Spotlight, and giving us a better idea of what makes you, YOU! We appreciate your hard work and positivity at Entrust and are lucky to have a delightful employee like you. To learn more about employees at The Entrust Group, please visit our Entrust News page here.