Entrust Employee Spotlight: Marisela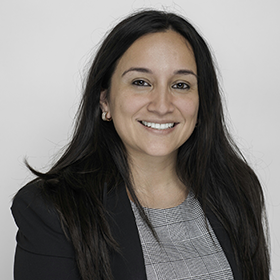 Estimated reading time: 1 minute 50 seconds
Once a month we like to recognize an employee at Entrust for their hard work and dedication toward making our company a friendly environment. This month our spotlight shines on Marisela. She's been working at Entrust as a Real Estate Associate since January 2016. It's only been a few months since she joined the Entrust family, and she fits right in. The one thing she enjoys most about working for this company is the way everyone works together to be productive and dilligent in their work.
Marisela also enjoys the learning process in the department. "I felt like every task and process was really structured, and along the way, I also enjoy learning about real estate investments." When asked about which other special skills she carries, she proudly exclaimed that she's a fluent Spanish speaker, and has an additional special talent of being a professional knitter! Some of her other hobbies include enjoying Mexican food, and sketching, and romantic walks to the fridge!
The most common question she comes across as Entrust include: "Can I be the property manager to my own IRA investment?" At times like these, Marisela has to break the news easy to our clients, and explain that Entrust does not permit the IRA owner to receive the rental income for record keeping, and the actual funds must be sent to Entrust for depositing. In other cases, the loan servicer must be a third party vendor (not considered disqualified parties.) Marisela says that a self-directed IRAs gives investors a better return on investment, compared to what investors can get from a regular bank account.
We, at Entrust, enjoy having Marisela apart of the family because of her friendly work ethic, and enthusiasm for real estate investments. She has a friendly quality which helps her deliver excellent customer service to clients. This is why we chose Marisela for this month's Entrust Employee Spotlight. Congratulations!
About The Entrust Group
The Entrust Group is the world's premier provider of account administration services for self-directed savings accounts, such as self-directed IRAs (gold IRAs and real estate IRAs), HSAs, and ESAs. For more than 30 years, Entrust has been an acknowledged authority in the field of alternative investments and administering self-directed, tax-advantaged savings accounts. Click on the image below to learn more about self-directed IRAs.