Entrust Employee Spotlight: Traci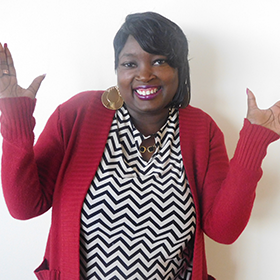 Estimated reading time: 2 minutes
Meet Traci, she's a Senior Client Representative at The Entrust Group in our Client Services Department and has been with the company for a total of one year.
Traci loves working for Entrust for three reasons: the culture, the people and the teamwork. Traci enjoys her co-workers and feels like they are family. She also enjoys how the company as a whole works as a team to get their work completed. In addition to her position at Entrust, Traci currently serves on the Fun Committee and she says it has been a great experience so far! Traci and a few other Entrust employees meet once a month to plan fun events and team-building exercises the entire company can enjoy.
On her free time, Traci loves spending time with her family and friends. She stays busy by going to events, family gatherings and working at her church. She is a mother of a 26 year old son and loves being a great mom! Her friends and family call her a social butterfly. In addition, Traci calls herself a "shopaholic", and Macy's is her preference.
2017 has gotten off to a good start for her, she recently got married to her best friend and went on her dream trip to New Orleans for her honeymoon. She met beautiful people and ate really good food and considers herself a foodie. Her favorite food is Chinese and Mexican. She also loves cooking from time to time for herself and her family.
A special quote from her: "I really must say I think we should live and love life to the fullest!"
Thank you Traci for taking part in our Entrust Employee Spotlight. We enjoy learning more about our employees and what makes them special to our company. To learn more about employees at The Entrust Group, please visit our Entrust News page here.
To provide personal service, Entrust maintains local offices that are staffed by professionals with first-hand experience related to self-directed IRAs, real estate and financial services. The local offices provide educational seminars to help clients and professionals understand the broad spectrum of investment options, regulations, and requirements, and the benefits of self-direction. To learn more about our local offices and representatives, visit the locations page.