Tales From The Crypt: Self-Directed IRA Horror Stories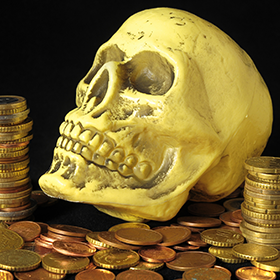 Estimated reading time: 3 minutes 15 seconds
With Halloween 2016 around the corner, we want to take this opportunity to open up Entrust's locked-away crypt of horror stories! These are not just any ordinary horror stories, but self-directed IRA stories that may have the ability to keep any IRA investor up at night with the sweats. Continue reading if you dare...
Tale 1: The Frightening Tale of the Worthless Asset
A client, for the sake of this horror story let's call him Frank, had demanded that Entrust remove an asset in his account and close the account. After much back and forth, Frank decisively went to court and sued his investment provider, as they were not fulfilling their end of the agreement. Frank won the court case and a settlement. He was awarded a judgment, even though it was less than half of his initial investment. He initially wrote to Entrust saying he had sued the investment provider, and despite winning the court case, he would never see a penny of this money from the judgment. So, Frank requested that Entrust remove the investment and close the account. When Entrust requested Frank to supply a copy of the court settlement, Entrust saw that a judgment was awarded to him. Frank acknowledged that he actually did receive this payment, however the payment was not sent to the Entrust IRA.
Result of error: Entrust was forced to report a $44,000 distribution on a 1099-R for Frank's "worthless asset." In addition, Frank would incur a 10 percent early withdrawal penalty for taking out a distribution before age 59 ½.
What Frank should have done: Instead of Frank personally taking the settlement, he should have returned the funds to his IRA, since the funds belonged there in the first place. Frank could have benefited from reading our Fair Market Valuation (FMV) instructions to remove a worthless asset. FMV instructions are mailed to our clients annually and are required to be completed. Frank could have also called our Client Services department to discuss our current FMV protocol and ask what Entrust's requirements are for removing an asset. Frank had been persistent in trying to close his account, but never properly completed the FMV Form. In addition, he never provided relevant supporting documentation that supported the claims that the investment was worthless. This client's situation went from bad, badder, to baddest at every turn. SCARY! No investor should get caught in such a frightening tale!
Tale 2: The Nightmare Before Tax Season
Entrust's Accounts Receivable department mails Morticia an invoice for quarterly recordkeeping fees. Morticia ignores Entrust's invoices and assumes that because her asset value has gone to $0.00 and is worthless, she has no obligation to report it to Entrust.
Morticia also assumes that her Entrust account would be automatically closed. Accounts Receivable mails collections notices stating that Entrust will resign as recordkeeper and distribute the account for non-payment of fees. Morticia is upset and calls Entrust. She voices her assumptions; that the asset is worthless and she thought the account was automatically closed.
Account Receivable explains that Entrust cannot revise the FMV of non-publicly traded assets without third-party (unrelated to client) documentation verifying the change in value. The client submits information and the fees are waived.
Result of error: Entrust continued to charge recordkeeping fees for the worthless asset because the asset did not have the correct fair market value. A resignation and distribution almost occurred. Had that occurred, Morticia would have received a 1099-R, reflecting a distribution with last known value of the asset held. This could have been a taxable event for Morticia. In addition, Morticia could potentially receive a penalty for early distributions. If you withdraw money from an IRA before age 59 ½, you typically incur a 10 percent early withdrawal penalty.
What Morticia should have done: Submitted a completed and substantiated Fair Market Valuation Form to Entrust showing the asset became worthless.
We hope our "horror" stories haven't frightened you too much, but investors should be aware of tales from the crypt when handling their investments, so they don't make these frightening mistakes. For more information about how you can avoid this kind of horror stories, please contact us today and we'll help you understand how self-directed IRAs work. Happy Halloween to all celebrating!