How Super Bowl 50 Can Help You Save for Retirement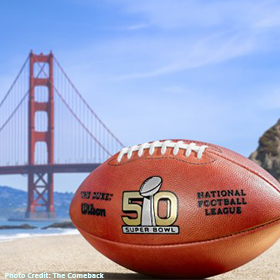 Estimated reading time: 2 minutes
We here at The Entrust Group are especially excited about Super Bowl 50 because it's happening here in our backyard. The game will be in the new Levi's Stadium in Santa Clara and the parties and hoopla have taken over a good part of San Francisco. Watching all of this got us thinking about how many of the expressions used in football can be applied to retirement savings.
Whether you're rooting for the Carolina Panthers or the Denver Broncos (or only tune in for the ads and the halftime show), consider that:
In football, a drive is a continuous series of offensive plays, often resulting in a score. You owe it to yourself to drive your retirement savings forward with regular contributions and continuous attention to the returns your investments are earning.
Extra points are what you can earn when you invest using a Roth IRA that lets your investments grow tax-free.
A Hail Mary is a desperation play—a long, forward pass with a small chance of success. That is the opposite of what you want your retirement savings plan to be. Improve your chances of a dream retirement by investing early in life in a self-directed IRA.
On the gridiron, an illegal motion will earn you a penalty. Similarly, the IRS will hand you a penalty if your IRA commits a prohibited transaction.
And just as the quarterback can't throw to an ineligible receiver, your IRA can't get involved with a prohibited person.
In football, a slobber-knocker is a particularly gruesome tackle or hit. The markets can deal out the same kind of punishment in the form of stock market corrections, real estate downturns and economic recession. One of the bet ways to protect your retirement savings is having a diversified portfolio. With a self-directed IRA you can invest in a range of assets, from real estate to precious metals.
Time of possession is a crucial statistic in football and in saving for retirement. The longer you have the ball—and the longer you have a retirement savings plan in place—the more likely you are to succeed.
The end zone is where players show-off after scoring a touchdown and its where you can spend your dream retirement.
With Super Bowl 50 just around the corner, saving for your retirement may not be the first thing on your mind. However, understanding and applying these football moves can help you strategize when it comes to saving for retirement through an IRA. If you want to learn more about self-directed IRAs, please contact us today!