With This One Move, Individual Investors Can Stay Ahead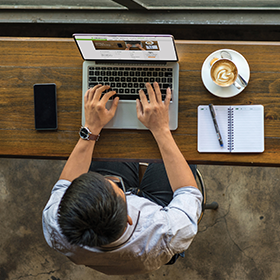 Estimated reading time: 2 minutes
Online learning is all the rage. You can learn a new language, hone your knife skills, or get fold-by-fold origami instructions. Better yet, you could become a better-educated investor through the newly refreshed Entrust Learning Center.
"Our educational resources are second to none in the self-directed IRA industry," said Hugh Bromma, CEO and founder of The Entrust Group. "We have always been committed to providing investors and others the resources to educate and empower themselves."
The redesign makes the Learning Center an even more convenient resource for individual investors, retirement and financial planners, and other professionals like real estate brokers to find timely, reliable, and objective information. It is easier than ever to find white papers, online courses, FAQs, videos, articles, and resources from Entrust and other sources. There's even a handy glossary listing definitions for many specialized investment terms and the alphabet soup—LLC, ESOP, MAGI—that every investor should know.
Resources that Speak to Individual Investors
Individual investors will find information on how to invest in alternative assets in a self-directed IRA, the ins-and-outs of IRS compliance when you hold real estate in an IRA, and how to do proper due diligence on any investments before signing on the dotted line, among many other topics.
"We choose and create content to appeal to a vast spectrum of investors, from people who are just starting out to seasoned investors who have seen the history of the market's up and downs," said John Paul Ruiz, QKA, CISP, director of professional development. "There is always something to learn and we want to be our clients' first resource."
Resources Tailored for Professionals
For retirement planners, financial advisors, real estate professionals, CPAs and others who may be unaware of the power of self-directed IRAs, the Learning Center offers a complete array of resources and tools to bring them up to speed, and keep them there. That includes online courses that qualify for continuing education credit.
"Regulations governing self-directed IRAs may change from time to time. We make sure that we stay on top of regulatory changes to ensure that the Learning Center's information is the most-up-to-date information," Ruiz explained. "The more we can help these advisors stay abreast, the better partner we are to them in growing their businesses."
24/7 Access to Resources You Need
The Entrust Learning Center is open 24/7, putting resources at your fingertips when it's convenient for you. Visit today to:
Participate in webinars led by industry professionals
Watch on-demand videos on a variety of alternative investment topics
Locate and attend local educational events happening in your community
Browse an extensive library of articles, infographics, FAQs, reports, government publications, and more
Access a glossary of self-directed IRA, retirement, and investment terms