3 Financial Lessons From Dr. Martin Luther King Jr.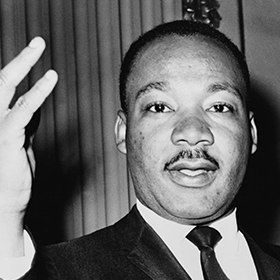 Estimated reading time: 2 minutes
Every January we honor one of America's greatest heroes, Dr. Martin Luther King Jr. On the day of his birthday, we celebrate his timeless philosophy and remind ourselves his vision for making America a tolerable nation when it comes to equality. In honor of his upcoming birthday, we present our top 3 financial lessons from one of the most influential people of the century:
1. Have faith and take risks in financial investments
Taking risks with a bit of faith is what financial investing is all about. One of Dr. King's memorable quotes was when he said "Faith is taking the first step even when you can't see the whole staircase." When on the road to financial freedom, taking risks is a an essential part of investing. Some investors are highly conservative and often avoid risk. However, this leaves all types of investors even more vulnerable to the risk of missed opportunities, which never helps them reach their financial goals.
2. Make smart investments choices by not limiting yourself
In Dr. King's well-known "I Have a Dream" speech, he said, "We refuse to believe there are insufficient funds in the great vaults of opportunity of this nation." Some industry experts explain that investing in things like a retirement plan or higher education is a better move than investing in a basic, stored-away savings account. Particularly because the investor can make better career moves and achieve a higher income levels in the future to put away more funds. Technically, it may be a smarter move to invest in your future.
3. Create the economic change you wish to see in the world
In 1963, Dr. King wrote his "Letter from a Birmingham Jail" and said, "Freedom is never voluntarily given by the oppressor; it must be demanded by the oppressed." For example, everyone is always looking for better pay and more success in their career. The lesson Dr. King talks about is that we should not just hope, wish, and groan about our economic injustice, we should be at the front lines working for those things. Work hard, stand up for what your deserve, march, protest, ask and sacrifice what you live by to be the change you wish to be.
That concludes our 3 financial lessons from Dr. Martin Luther King Jr. We encourage all of our readers to read more about Dr. King's life. If one of these lessons stood out to you, don't wait to get started on your financial success. Contact an Entrust professional for a free consultation. (Free and freedom is something else to be grateful for! Thanks Dr. King!)
Entrust offices will be closing at 3pm on Friday, Jan 13, and will be closed all day Monday, Jan 16 in observance of Martin Luther King Jr. Day. We will resume normal business hours on Tuesday, Jan 17.