Give Back This Holiday Season with Qualified Charitable Distributions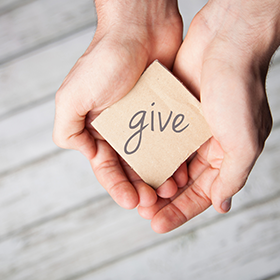 [Updated 2021]
Estimated reading time: 4 minutes
If you are at least 72 years old, you can use your existing IRA distribution to donate directly to your favorite qualifying nonprofit. Qualified Charitable Distributions (QCD) are treated as tax-exempt, and they also count toward your annual Required Minimum Distributions (RMDs).
Making a QCD is simple: you direct your IRA administrator to send a check or wire transfer directly to the charity. You may also instruct your IRA administrator to make your distribution payable to the charity and deliver the check yourself. You then report the QCD on your tax return, along with your other charitable deductions, if you itemize your return.
Here are some frequently asked questions regarding QCDs.
How do I know if my IRA plan is eligible for a QCD? What are the requirements?
Distributions for this purpose can come from taxable distributions from an IRA (other than an ongoing SEP or SIMPLE IRA) that is paid directly from the IRA to a qualified charity. Keep in mind, it is only available for individuals age 72 and over, and the distribution counts towards the account holder's Required Minimum Distributions (RMD) for the year.
What kind of charities qualify for QCDs?
The entity must be a 501(c)(3) organization meaning donations must be eligible for a tax deduction by the one donating. The IRS has a tax exempt entity search. Its available under the IRS website. Other entities such as private foundations and donor advised funds are not eligible for this tax benefit.
How can QCDs affect my taxable income?
Up to $100,000 of taxable retirement plan distributions, per tax payer, are exempt from taxes if the amount is donated directly to a charitable institution.
What are the special tax reporting instructions for making a QCD?
To report a qualified charitable distribution on your Form 1040 tax return, you generally report the full amount of the charitable distribution on the line for IRA distributions (typically line 15a). On the line (15b) for the taxable amount, enter zero if the full amount was a qualified charitable distribution. Enter "QCD" next to this line. See the Form 1040 instructions for additional information.
You must also file Form 8606, Nondeductible IRAs, if:
You made the qualified charitable distribution from a Traditional IRA in which you had basis and received a distribution from the IRA during the same year, other than the qualified charitable distribution; or
The qualified charitable distribution was made from a Roth IRA. If coming from the Roth IRA, the amount does not go towards an individual's RMD for the year and only the taxable earnings if any will do towards the QCD.
How can I determine my estimated RMD for the year?
You can ask for assistance from your current IRA custodian to calculate the amount for you. If you wish to calculate it yourself, the formula to calculate the amount is to divide your IRA's prior year-end balance (e.g., December 31, 2020 FMV for 2021 RMD) by the multiple associated with your age as of your birthday found on the Uniform Lifetime Table.
How can I make a one-time QCD from my IRA with Entrust?
Account holders may do this, and it will be reported as a normal distribution on the IRS Form 1099-R which you will receive by January 31st following the year of distribution. You will need to handle the tax exemption of the distribution on your personal tax return.
Keeping Your Giving in the Family
In addition to giving to established nonprofits, you may want to extend the spirit of giving to your family and loved ones. This too can have tax benefits for the donor if done correctly.
You may consider:
Making cash gifts to family members. You may give a cash gift that is under the annual IRS amount to an individual (double that if you file jointly) with no tax consequences. Gift amounts are updated yearly, so be sure to check the IRS page for the specific number. If you plan on taking a distribution from your IRA to make such a gift, the distributions are still subject to the same taxation rules associated with the IRA. Above that amount, you must file

Form 709, the Gift Tax Return.
Paying college tuition or medical expenses directly to an educational institution or medical facility on behalf of a family member. If you do this, the limit does not apply. And you can still give that same family a cash gift. If coming from an IRA, the same taxation rules for IRA distribution still apply.
Contributing to a

529 Educational Savings Account

for your child's, grandchild's or other relative's tuition (including elementary, middle, high schools, colleges, and some vocational training institutes). Although your 529 plan contributions are not tax-deductible, the assets grow tax-deferred until distributed for qualified higher education purposes. (Distributions become taxable if they are not used for education purposes.)
Start Your Giving Now
Go ahead, give gifts for Christmas, Hanukkah, Kwanzaa, or just for the joy of giving. Then, plan your charitable contributions for the well-being of the larger community, with the understanding of how charitable giving can play to your own tax advantage.
Here's our gift to you: A FREE consultation with an Entrust professional to learn more about using a self-directed IRA to save for retirement and potentially save on taxes.