How to Invest in Cryptocurrency With a Self-Directed IRA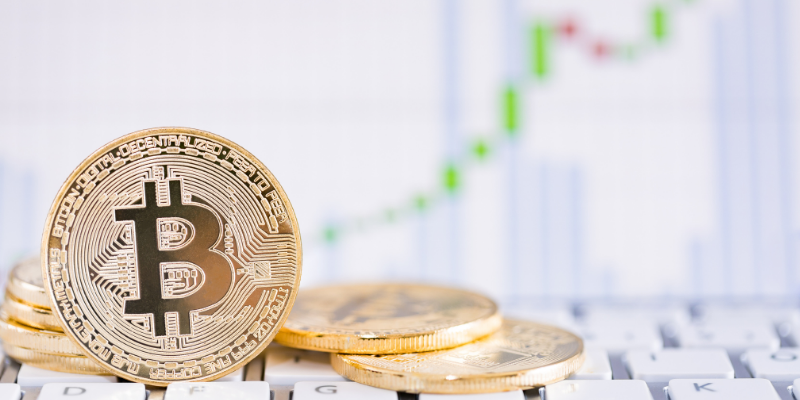 [Updated May 2022]
Estimated reading time: 3 minutes
Cryptocurrency has dominated the news over the last couple of years, and it's been a wild ride. Investors have flocked to this new digital currency, and purchasing options have multiplied.
If cryptocurrency is an asset that interests you, the good news is you can invest in "crypto" with your self-directed IRA (SDIRA). Whether you invest with your traditional or Roth IRA, your SDIRA allows you to pair a tax-advantaged strategy with a crypto investment strategy.
What is Cryptocurrency?
Cryptocurrencies are digital currencies secured by cryptography. These virtual "coins" are created when transactions are verified or processed on decentralized computer networks. These networks are based on blockchain and cryptography, which makes crypto almost impossible to double spend or counterfeit.
The initial goal of this decentralized currency was to allow people to have more control over their money without relying on third parties such as banks and financial institutions. It also was designed to help eliminate a single point of failure in the market.
New cryptocurrencies are mined every day, and there are thousands of digital currencies. Bitcoin and Ethereum are the largest currencies by market cap, but many others such as Tether, XRP, and Binance Coin are also popular.
Unique Advantages of Investing in Crypto
There is no minimum investment requirement. Investors can purchase small amounts of a certain coins to test out their strategy and appetite for risk.
There may still be room for growth potential because it is a developing asset class.
Some cryptocurrencies have a cap - or maximum number of units that can be created. This is sometimes viewed as a shield from inflation.
Cryptocurrency, however, is a relatively new asset known for its volatility. Given the nature of crypto and its newness in the market, regulations and oversight are still in flux and subject to scrutiny. This environment can lead to increased risk for the asset.
SDIRA Cryptocurrency Investing Strategies
Investments in cryptocurrency require using a digital wallet to hold your crypto. In some cases, investors are also responsible for keeping track of the keys to their wallet.
There are three ways that you can invest in cryptocurrency through your SDIRA.
Option 1: Buying Cryptocurrency Through an Exchange
At Entrust, we have partnered with a cryptocurrency exchange, ErisX. An exchange makes it possible for SDIRA holders to purchase and hold cryptocurrencies. Not all SDIRA providers can offer direct access to cryptocurrencies. Be sure to confirm this capability with your custodian before opening an account.
Here are the highlights of how the process works.
Start by opening your SDIRA at Entrust.
Complete the ErisX

onboarding process

.
Once ErisX approves your application, login to the Entrust Client Portal to submit a new investment request.
Entrust will transfer funds to ErisX and notify you once they credit these funds to your ErisX IRA trading account.
Once the process is complete, you'll be able to manage the wallet holding your cryptocurrency.
You can learn more about our relationship with this exchange and the process of investing in crypto by checking out the ErisX website.
Option 2: Investing in Digital Currency Funds
If you'd prefer to invest in cryptocurrency without holding crypto yourself, consider a digital currency fund. This strategy allows you to invest in cryptocurrencies using an investment product structure you're already familiar with. Similar to a mutual fund, these allow you to invest in the stocks of companies that hold coins or have cryptocurrency-related services.
Investing in a digital currency fund can give you an indirect way to invest in crypto and bypass the need for a wallet or keys.
Here's a brief look at the process.
Start by

opening your SDIRA

.
Fund your account via a transfer, rollover, or cash contribution.
Submit the subscription/purchase agreement provided by the investment sponsor and a Buy Direction Letter for Private Placement on the

Entrust Client Portal

.
As with any public or private funds, your SDIRA pays any associated fees. Keep in mind that there may be restrictions limiting your access and ability to sell your shares in the fund.
Option 3: Buying Cryptocurrency via an IRA LLC
Another way to invest in cryptocurrency with an SDIRA is via an LLC. There are a number of benefits associated with this structure including potential liability protection and direct access to your retirement funds via checkbook control. However, there is a cost to create and maintain an LLC.
You'll need to establish a wallet. With an LLC, your SDIRA can hold a private wallet or can choose to have a wallet on any exchange platform. While each exchange only provides access to particular cryptocurrencies, this structure provides the most flexibility if you want to invest in a crypto that is not listed on ErisX or another popular exchange.
Here's an overview of the process:
Start by

opening your SDIRA

.
Fund your account via a transfer, rollover, or cash contribution.
Set up an LLC. You can learn more about how to do that on our

LLC page

.
Submit the operating agreement and a Buy Direction Letter for Private Placement on the

Entrust Client Portal

(In this case, the LLC is considered the asset in your SDIRA).
Use your LLC to invest in cryptocurrency with a private wallet or on an exchange.
Ready to Start Your Crypto Journey?
Learn more about this emerging asset by listening to our recent webinar on cryptocurrency investing co-hosted by Rayhaneh Sharif-Askary, Director of Investor Relations and Business Development at Grayscale.
Questions about cryptocurrencies and how you can invest in them with a SDIRA? Chat with one of our experts today.