6 Pre-Retirement Tips for Your 20s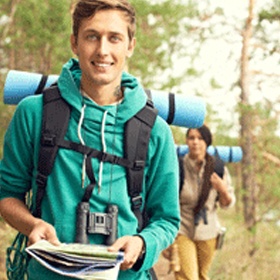 Estimated reading time: 3 minutes 20 seconds.
We want to encourage our readers to take this week to reflect on their savings plans, which may or may not be in place -- and that's OK. It's never too late, nor too early to start planning for your future.
From the college student backpacking across the United States to the newly minted retiree enjoying their vacation home, it is important to keep your future secure and well planned. As you journey through life, consider these retirement goals to keep you on track and ready for your golden horizon.
Life in Your 20's
As a youth in your 20's, you probably feel as though there is a vast amount of time before you start planning for retirement, and like many other energetic youth, you might not see the need for investing in your retirement savings. But being prepared and knowledgeable is the key to securing a rewarding retirement.
Starting earlier with retirement savings has proven to be key for many young investors in producing long-term rewards. Take the time in your twenties to consider doing these things
1. Create a monthly budget, and include savings for retirement
You are fortunate to have strong advancements in education and technology at your fingertips through the internet and mobile devices. Researching trusted financial sites and downloading financial apps will help to keep you on track.
2. Be conservative with your funds
Frugality is a skill worth mastering in early adulthood and your choices early in your career dictate your long-term financial outcome more than you might think. Learn to live without things that are short-lived now and you will be accustomed to this lifestyle in the years to come.
3. Does your employer have a retirement plan?
Consider enrolling and take advantage of employer matching contributions in retirement plans such as a 401(k). Don't pass up "free" money if you can afford it!
4. Improve your financial literacy
Do exercises to improve your familiarity with financial terms and evolving trends. The longer you invest in educating yourself, the better you will be at picking out false information and temporary fads revolving around saving techniques. Now is also the time to start learning about alternative investment choices and how you can choose to direct your funds.
5. Manage your debt and credit score aggressively
Your credit score will prove to be valuable in each phase of your life and debt will weigh you down for years.
6.

Contribute to a Roth and/or a traditional IRA
Due to your retirement being a considerable distance for you, keep in mind that compounding interest is to your benefit.
An example of compounding interest:
The chart below begins with an initial $5,000 contribution to a Roth IRA. Assuming an investment with continuing growth of 5% annually, after 55 years the savings are substantial.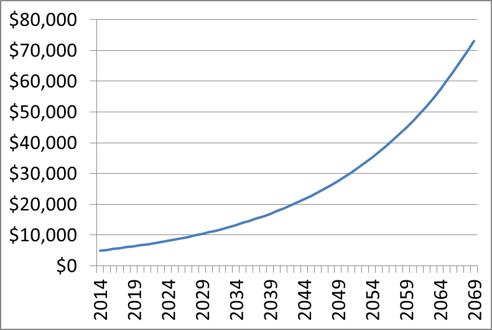 As you can see, your initial investment could potentially turn into $73,178 by the time you retire. What is even more surprising is that this growth is without any additional contributions. Consider the growth if you were to continue making annual contributions. Or, if you were to make an investment achieving 8% growth, those funds would turn into $344,569.
Keep in mind, you will most likely not be able to retire on the same amount of savings that previous generations did, due to inflation. Some financial advisors estimate that you will need to save as much as seven times more than those who retired before you.
As you can see, retirement considerations and savings are crucial even at this early stage in your life. Continue educating yourself by reading articles on retirement planning through a Self-Directed IRA in our Learning Center. For further information on IRA plans visit our Self-Directed Plans for Individuals page.
Visit our Learning Center often to read about each stage's retirement goals, starting from the 20s and going into your post-retirement years. If this particular stage does not apply to you, feel free to share this article with someone you know who might benefit.