What do Jack-O-Lanterns and Self-Directed IRAs Have in Common?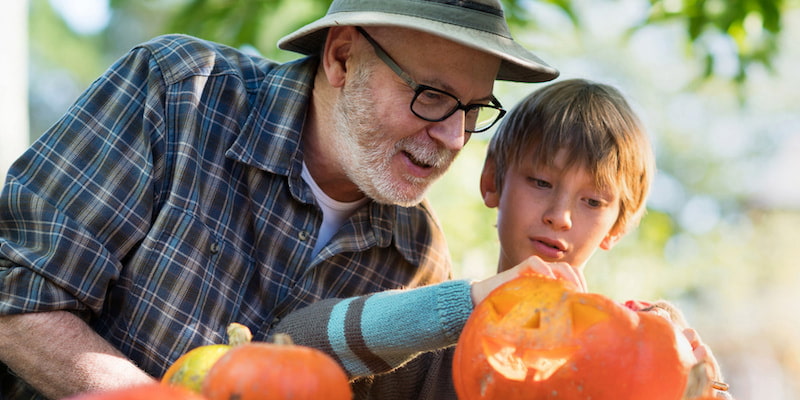 Estimated Reading Time: 4 minutes
Many investors are turning to self-directed IRAs (SDIRAs) to have more flexibility and control over the types of investments they can hold in their accounts. If your strategy during this Halloween season and all year long is choosing investments that work for you rather than the scary reality of being stuck with the options available at traditional brokerages, then opening a SDIRA might be for you.
And you might be surprised to learn that investing with a SDIRA has a lot more in common with a Halloween favorite, the humble jack-o-lantern, than you ever suspected.


Jack-O-Lanterns and SDIRAs Both Require Planning
Everybody knows that an amazing jack-o-lantern design hinges on selecting the perfect pumpkin. Small, large, round, tall…whatever pumpkin you choose will directly impact how your jack-o-lantern looks in the end.
SDIRAs also need careful thought and selection. Choosing the type of account has implications for how you grow your portfolio. Understanding each plan's features and tax advantages is a good first step. Selecting a provider who is focused on administering self-directed accounts, like Entrust, will open up options for investments and growth.


Jack-O-Lanterns and SDIRAs Both Need to Be Opened
No matter how elaborate or creative your plans are, you won't be able to create a fantastic jack-o-lantern if you don't get in there and open up your pumpkin. Getting started takes cutting out the top (or bottom) and reaching in to clean out the pumpkin before you can begin carving your design.
Thankfully SDIRAs are not quite as messy, but the truth is, they also need some work to get started. You have to actively take steps to open your own SDIRA. After choosing the right provider, you have to open the account and fund it so that you can start investing. The online process at Entrust makes it quick and painless.


You Get to Design What Jack-O-Lanterns and SDIRAs Look Like
One of the delights of jack-o-lanterns is that you can turn it into anything you can dream of. Missing the beach? Carve waves and an umbrella. Thinking about your investments? Carve a dollar sign. Or maybe you are a fan of the classics and have a toothy grin. You are the designer.
With an SDIRA, you are the designer of your portfolio. We may not say it enough, but that's what self-directed really means.
Unlike an IRA at a traditional broker where your options for investments are limited, an SDIRA is fully under your direction. Design a retirement portfolio that focuses on the alternative investments that fit with who you are and where you want to go.


There Is An Element of Risk When Designing Jack-O-Lanterns and SDIRAs
There is no doubt that wielding a knife to carve the perfect jack-o-lantern design has some risk. Knives are sharp and pumpkins are fragile. You have to be careful to get the design you want. But by following some common-sense guidelines and paying attention to what you are doing, you can create a masterpiece.
We'd be remiss if we didn't point out that SDIRAs, like all investments, also have some risk. Since you are designing and self-directing your investments, you are responsible for how you choose to invest. While you can invest in any legal investment, you are still required to follow all the rules and guidelines laid out by the IRS. Your SDIRA provider cannot recommend, manage, or give advice about your investment choices. But Entrust does provide great resources for understanding the rules.
Your portfolio. Your decisions. It's definitely an exciting way to work toward your investment strategy, but just like a jack-o-lantern, you have to pay attention to the details.


Jack-O-Lanterns and SDIRAs Have the Potential to Brighten Your Life
After cleaning out the seeds and carefully carving your perfect design, there is a simple satisfaction in lowering a candle into your pumpkin. You can step back, see your design glow, and feel a sense of accomplishment.
While a finished, lit jack-o-lantern is satisfying, a thoughtfully designed investment strategy with an SDIRA can truly change your life. You can design your dream investment strategy for anything from retiring early and traveling the world to paying it forward by investing in your community. No matter what design you choose, you have the power to use your SDIRA to create an amazingly bright future.
After your SDIRA is opened and funded, you have the potential to step back and watch your strategy unfold. We even have an Entrust App for our clients to make managing your SDIRA easy.
SDIRAs Have a Lasting Impact
Unlike a jack-o-lantern, however, your SDIRA is not just for this season. Once it is up and running and you are managing it, it has the potential to grow and propel you toward your retirement dreams.
What could be a better way to celebrate this fall season than diving in and opening your own SDIRA? You don't even have to get your hands messy. Just check out our SDIRA Basics Guide or visit our Open an Account page to get started.
If you want to know more about the exciting ways our clients are using SDIRAs to grow their retirement accounts, take a look at the 90 Things You Can Invest in with a Self-Directed IRA. Just like jack-o-lantern designs, with SDIRAs the possibilities are endless.