How to Invest in Gold With an IRA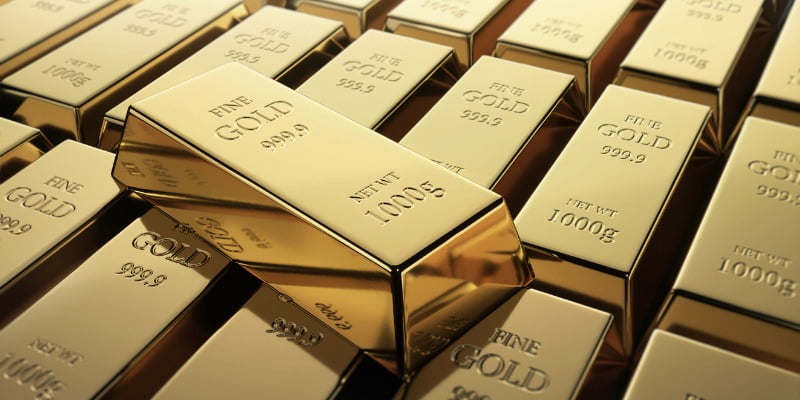 Estimated reading time: 4.5 minutes
The recent stock market slump has left many down in the dumps over their investment portfolios, but for every setback, a new opportunity awaits. Diversification is the key to any good portfolio, and if yours has been limited to stocks, bonds, and mutual funds thus far; now is your chance to branch out.
If you're one of the millions of people who's been trolling the web for information lately while asking yourself, "Should I invest in gold?"
Take a seat; let's talk gold.
A Brief History of Gold
Gold is one of the rarest precious metals. Experts estimate that from the beginning of human history to the close of 2011, approximately 165,000 metric tons (nearly 6 million ounces) were mined. Gold began acting as currency in 560 B.C. and has continued to play a vital role in the global economy ever since.
While gold continues to be mined, the rate at which it's being extracted has decreased in comparison to previous eras. Of the gold being mined today, about half is used in jewelry, 10% is used by industry, and the remaining 40% is held in investments. Much of that 40% is held by the world's central banks, who retain their liquid reserves in gold.
Value Retention and the Stock Market
Gold is regarded as a store of value, a hedge against inflation, and protection against currency deflation. Gold prices tend to act in opposition to the stock market: when equity prices are low, gold typically rides high.
While gold prices may ebb and flow, the worth of gold in terms of its purchasing power, is relatively stable over time—whereas currency (like the U.S. dollar) is not. Currency is very reliably the victim of time and inflation. If your goal is to preserve wealth over time, many great legacies have been built using gold.
Gold IRA Investment Options
There are numerous options as to the type of gold you can hold in your IRA. Gold bars and rounds must be produced by an accredited refiner, assayer, or manufacturer or by a national mint to a fineness of .995+ purity. Coins and bullion such as the American Eagle and American Buffalo (not proof coins) issued by the US Mint, Australian Kangaroo, Canadian Maple Leaf, and others that meet bullion standards for purity can also be held in your account.
Assembling a Team
Special parameters must be met to ensure that gold can be held within your IRA, so you'll need a team of specialists to help you during the investment process.
The first team member you'll need is a Self-Directed IRA administrator. They handle the documents you need to establish, fund, and complete transactions in your Precious Metals IRA.
A Self-Directed IRA administrator that accepts precious metals will have a precious metals platform with knowledgeable providers you can choose from, including a selection of depository institutions that can hold your precious metal investment. This administrator role can be filled by The Entrust Group, which administers nearly $3.3 billion in total assets.
Since your account is an IRA, the administrator is also responsible for recordkeeping and ensuring that all necessary reports are submitted to the IRS in an accurate and timely fashion.
Next, you will need a reputable precious metals dealer. These are individuals or firms that buy and sell precious metals. This can be a person who is available to make a bid and offer a price on gold. A dealer could also be a firm with an inventory of gold that it sells to coin dealers, jewelers, or investment companies.
Interviewing your dealer to ensure they understand the restrictions regarding the types of gold that can be held in an IRA should be a part of your due diligence process.
Lastly, you'll need to store your gold with a depository approved for Self-Directed IRA usage. Gold purchased by the IRA is transferred directly into the depository under your IRA's name.
You cannot take possession of the gold while it is held in the IRA. If you take physical possession of your gold for any reason, it is considered a distribution from your IRA, which is a taxable event and may be subject to the early distribution penalty.
Entrust currently works with four IRA-approved depositories in the US.
Once you've completed your due diligence, selected your gold dealer, your IRA administrator, and an IRA-approved depository, the investment process can take approximately three weeks from start to finish.
Here's how you can invest in gold with your IRA:
Open a Self-Directed IRA with Entrust. (You can do this online in less than 10 minutes.)
Fund your account via transfer, rollover or contribution.
Research and select your gold dealer and depository.
To buy the gold:
Complete a Precious Metals Buy Direction Letter
Sign the dealer invoice
Sign the Depository Holdings Election Form
Submit all forms to the Precious Metals Center at Entrust
Entrust wires the funds to your precious metals dealer.
Entrust emails you and the dealer a packing insert to attach to the gold prior to shipping to the depository.
The depository receives the gold, audits them, and approves the shipment. The depository then emails Entrust a copy of the delivery receipt.
Entrust reviews the information received from the depository, matches it to the dealer's
invoice, and enters it into your account.
Any effort you make to diversify your portfolio is a step in the right direction. Check out our Precious Metals IRA Guide to learn about the other precious metals you can hold in your Self-Directed IRA.