Why Capturing Direct Rollovers is Essential in Today's Retirement Market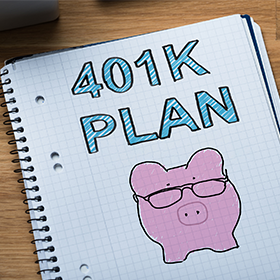 Estimated reading time: 3 minutes
With 6 million Americans still unemployed and over 78 million approaching retirement age, there are opportunities to capture rollovers from employer-sponsored plans.
According to the Investment Company Institute, out of the 27.9 trillion dollars in retirement plans, comparatively there are 8.9 trillion dollars in Individual Retirement Arrangements (IRAs) and 7.7 trillion dollars in defined contribution plans (see graphic below).
The increases of assets in IRAs are fueled by direct rollovers from employer-sponsored plans. To capture a share of the rollover market it is good to know the triggers or distributable events that allow for direct rollovers to occur.
Direct rollovers from employer-sponsored plans may come from a Qualified Plan such as your 401(k) profit sharing plan, tax deferred or tax sheltered annuity (403(b)), and governmental 457(b) plan.
Below are the distributable events for each of the plans:
| | | |
| --- | --- | --- |
| Qualified Plan (401(k), Profit Sharing) | Tax-sheltered Annuities, Tax deferred Annuities 403(b) | Governmental 457(b) |
| Severance of employment | Attainment of age 59 ½ | Death |
| Death | Death | Attainment of age 70 ½ or retirement |
| Disability | Disability | Unforeseeable emergency |
| Normal Retirement Age | Severance of employment | Severance of employment |
| Plan Termination | | |
| Qualified Domestic Relations Order | | |

Employers are obligated to provide a notice to individuals who have attained these distributable events which contain the individual's options as to what they can do with their retirement plan balances.
Individuals who have a balance of $5,000 or more are not obligated to move their funds out of the plan. Individuals who have a balance between $1,000 - $5,000 may have their balance rolled into an IRA if the ex-employee does not respond to the notice. The typical time frame an employer provides for the employee to respond is 30 days.
Employees who decide to take their funds out of the plan, may do so in one of two ways:
They can ask for a distribution or request for their funds to be directly rolled over to an IRA or another employer plan if they have one. If they ask for a distribution, the amount they will receive will be typically 20% less because of the mandatory withholding mandated by tax law.
Or they may rollover the funds within 60 days but in order to avoid any of the distribution from being taxed, they can make up the 20% withheld from the distribution out of pocket.
The most efficient way to move the dollars as well as preserve assets from taxation is via direct rollover. A direct rollover is a distribution from the employer plans with the distribution payable to the receiving plan thus eliminating the mandatory 20% withholding. It also keeps the assets tax-deferred since the dollars go from one tax-deferred account to another tax-deferred account.
Understanding direct rollovers will not only help former employees in keeping their hard earned retirement dollars from unintended tax consequences, but may also allow retirement professionals to capture direct rollovers.
The US Retirement Market, Fourth Quarter 2017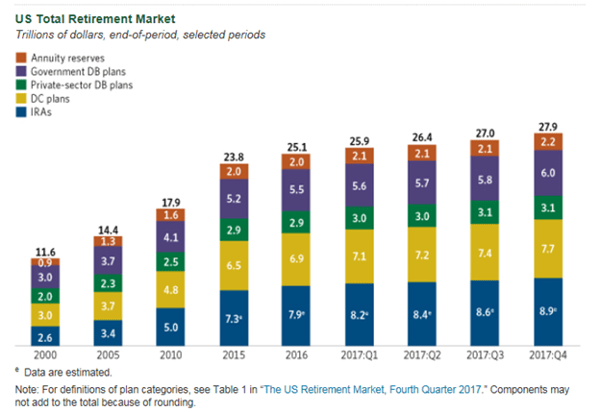 Professionals like CPAs, CFPs, Financial Advisors, banking personnel, brokerage firm representatives, and other professionals need to stay educated to help their clients with questions they may have regarding their retirement.
IRA Academy provides professionals with educational classes on IRAs and IRA-based employer-sponsored plans. The event is open to anyone who wants to stay competitive in the retirement field.
To receive more information about IRA Academy, or to take advantage of early bird pricing for our event, please visit our site. You'll be among the first to know about the agenda, curriculum, and registration details.